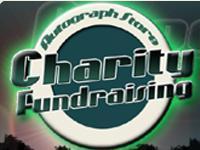 New York, NY (PRWEB) July 2, 2009
Autograph Store Charity Fundraising is pleased to announce its sponsorship of three recent United Way charity auction gala events. The successful fundraising conducted at these charity galas will allow the United Way to fund a number of programs. Autograph Store is proud to have been a part of these important charitable fundraisers and judging by the energetic bidding, the celebrity autographed memorabilia's popularity helped make the auctions a success. Autograph Store supplied these celebrity autographed collectibles for the United Way charity fundraisers:
1. KISS Guitar
2. Sylvester Stallone boxing glove
3. Jonas Brothers Guitar
4. Madonna guitar
5. Miley Cyrus guitar
6. Billy Joel record album
7. John Cougar Mellencamp record album
8. Star Wars Cast - Mark Hamill, Carrie Fisher & Harrison Ford 16X20 photo
9. Sylvester Stallone 16X20 photo
10. Tom Cruise 16X20 photo
11. Mel Gibson 11X14 photo
12. Dale Earnhardt Sr. 8X10 photo
13. Princess Diana 8X10 photo
14. Seinfeld Cast 8X10 photo
15. The Outsiders Cast 8X10 photo
16. Bill Clinton baseball
17. Barack Obama baseball
18. Paul McCartney 16X20 photo
In a time when philanthropic dollars seem to be disappearing, Autograph Store Charity Fundraising, one of the world's leading charity fundraising organizations, had a different outcome at its most recent United Way charity auction events.
Anthony Nurse, Charity Fundraising Director at Autograph Store, stated, "We were very happy to be able to supply some great celebrity autographed items to three recent United Way fundraising galas. We were blown away by the number of people who responded this year. Not only did our items help us increase the night's overall revenue, but it was easy and fun for everyone to get involved. Whether they were able to donate $10,000 or $10, each person was able to make a contribution. And when they saw their respective bids rising... the energy in the room was electric. I am very pleased that in this economy we are able to help charities and non-profits find new auction items to engage more guests in the fundraising process and make a real difference. We are certainly looking forward to partnering with the United Way again on more fundraising projects," Mr. Nurse said.
Autograph Store's Charity Fundraising Division has helped charitable organizations of all sizes conduct profitable and entertaining charitable fundraisers. Large and small charitable organizations are invited to contact Autograph Store today for more information on how they can order authentic celebrity collectibles for their next fundraising event. While Autograph Store has worked with larger charities, including the American Heart Association, United Cerebral Palsy and March of Dimes; it also specializes in helping smaller organizations, such as local PTOs and charity golf tournaments raise much needed funding. Autograph Store offers memorabilia items for all types of charity auctions and will assist charities on any level with small $100.00 items to larger $2000.00 signed celebrity collectibles.
Planning a charity fundraising event with Autograph Store is easy. Charitable organizations consult with Autograph Store and select celebrity autographed photos and collectibles that will appeal to their audience. Autograph Store then beautifully displays, packages and ships the items to the organization; ready to be auctioned at the fundraising event. The charitable organization auctions the items and any money raised over the items' reserve price is profit for the charity. There is absolutely no risk to the organization; since if the items don't sell, the organization can ship them back post-paid to Autograph Store.
In these challenging economic times celebrity autographed collectibles from Autograph Store can help energize most any fundraiser. These charity fundraising testimonials illustrate that working with Autograph Store's Charity Fundraising Division has paid dividends for many non-profit organizations. Autograph Store invites charitable organizations to contact them today to start planning their upcoming fundraisers.
About: Autograph Store Charity Fundraising
Autograph Store Charity Fundraising is a charity fundraising company serving at the pleasure of more than 1,200 charities & non-profits worldwide. With an international staff and 200 business partners distributing Autograph Store Charity Fundraising's products and services, ASCF's mission is focused on helping charities and non-profits exceed their fundraising goals at their charity galas, dinners, benefits, auctions, etc. with zero risk to the organization through a myriad of authentic hand signed entertainment and music collectibles. Autograph Store Charity Fundraising's branded celebrity memorabilia has assisted charities while increasing their fundraising in all 50 states in the US as well as in Japan, Canada, United Kingdom, Australia and China. Website: http://charityfundraising.autographstore.com
For more information on Autograph Store Charity fundraising's authentic celebrity signed collectibles, please contact:
Anthony Nurse
Charity Fundraising Director at Autograph Store
Phone: 201-840-8777
###