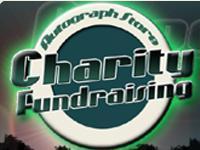 We will use you again to help us in our mission so we may continue to provide our vital services to the people of Oklahoma in these challenging times. Thank you for your help in making HeartLine's presence possible for those in need
New York, NY (PRWEB) October 1, 2009
Autograph Store's Charity Fundraising Division is nearing its 2009 goal of helping charities raise $1,000,000.00 from the sale of its celebrity signed memorabilia and Once in a Lifetime Experience packages. Autograph Store is pleased to announce that as of September 22 it has helped charities raise $693,850. This total already tops last year's total numbers by more than $160,000. Autograph Store is poised to reach its $1,000,000.00 goal, and with 3 months left in 2009 that appears to be a very attainable objective.
Autograph Store's celebrity signed collectibles offer unique opportunities for charities to raise money to fund their programs. Autograph Store has worked with large charities such as the American Heart Association as well as small PTOs and local golf tournaments. Autograph Store offers celebrity signed memorabilia items for all types of charity auctions and will assist charities on any level with small $100.00 items to larger $2000.00 signed celebrity collectibles.
Getting started with Autograph Store's Charity Fundraising Program is easy. Each charitable organization selects celebrity autographed memorabilia for its fundraiser and has it shipped to them post-paid by Autograph Store. Any amount bid on each item over its reserve price is profit for the charity. One of the best reasons to work with Autograph Store when planning a charity fundraiser is that there is no risk to the organization. If for some reason an item does not sell the charity can return it post-paid to Autograph Store.
Anthony Nurse, Charity Fundraising Director at Autograph Store, helped drive the vision that set the $1,000,000.00 goal: "In late 2008 we decided to aim high and set the goal at $1,000,000.00. While we knew it would be a challenge, we knew it was certainly achievable. Our charity fundraising efforts this year have been extremely successful and I have no doubt that we will reach our target. And once that happens we'll be eager to set an even higher goal for 2010," Mr. Nurse stated.
A key moment this year came in August when Autograph Store helped HeartLine, Inc., an Oklahoma community organization, to raise $12,575 through auctioning only six celebrity signed memorabilia items. This was a new milestone for Autograph Store, as it represented the highest amount ever raised at a fundraiser with the least number of auction items. HeartLine's programs include Healthy Aging Living Transitions for seniors, and Oklahoma's 211 health and human services resources help line. Tom A. Taylor II, Director of Development for HeartLine, thanked Autograph Store for its assistance in making the HeartLine fundraiser a success: "We will use you again to help us in our mission so we may continue to provide our vital services to the people of Oklahoma in these challenging times. Thank you for your help in making HeartLine's presence possible for those in need," Mr. Taylor said.
Celebrity autographed collectibles from Autograph Store can stimulate bidding and add excitement to charity galas, auctions and annual fund drives. These charity fundraising testimonials illustrate that working with Autograph Store's Charity Fundraising Division has paid dividends for many non-profit organizations. Autograph Store invites charitable organizations to contact them today to start planning their upcoming fundraisers.
About: Autograph Store Charity Fundraising
Autograph Store Charity Fundraising is a charity fundraising company serving at the pleasure of more than 1,200 charities & non-profits worldwide. With an international staff and 200 business partners distributing Autograph Store Charity Fundraising's products and services, ASCF's mission is focused on helping charities and non-profits exceed their fundraising goals at their charity galas, dinners, benefits, auctions, etc. with zero risk to the organization through a myriad of authentic hand signed entertainment and music collectibles. Autograph Store Charity Fundraising's branded celebrity memorabilia has assisted charities while increasing their fundraising in all 50 states in the US as well as in Japan, Canada, United Kingdom, Australia and China. Website: http://charityfundraising.autographstore.com
For more information on Autograph Store Charity Fundraising's authentic celebrity signed collectibles, please contact:
Anthony Nurse
Charity Fundraising Director at Autograph Store
Phone: 201-840-8777
###