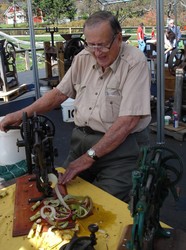 I will show visitors how we still make cider as it was produced back in 1889. Our water-turbine is used to power the traditional rack-and-cloth press making our famous sweet cider
Fly Creek, NY (Vocus) October 1, 2009
The Fly Creek Cider Mill & Orchard will hold its annual CiderFest October 10 and 11 from 10:00 until 4:00. The weekend features the Mill doing what it does best, making fresh, sweet cider the old-fashioned way on its 1889 water-powered cider press. Pressing demonstrations will be given by production leader Jack Stanton. "I will show visitors how we still make cider as it was produced back in 1889. Our water-turbine is used to power the traditional rack-and-cloth press making our famous sweet cider," says Jack.
Outside the Mill will demonstrate its large collection of hand-operated presses dating back to the mid 1850's. These presses were once a necessity on every farm before commercial mills like the Fly Creek Cider Mill were established. The hand presses allowed the pioneering farmers to make cider that was fermented for later consumption or allowed to turn to vinegar for preserving the vegetable harvest through pickling. Families at CiderFest are encouraged to participate in operating the presses for the fun of it.
A special feature this year will be the International Society of Apple Parer Enthusiasts (IAPES) presenting a full display of apple peeling equipment ranging from home peelers to commercial slicers. The Mill's present day founder, Charlie Michaels, will lead the IAPES team in showing his collection of over 50 peelers and a newly restored Perfect Brand commercial slicer and Telegraph Brand hand-operated cider press. IAPES member Ronald Bennett will display his intricate hand-powered apple slicer found in Wayne County. Back for a second year apple parer guru, Jerry Laverty, will exhibit his rare collection set of three iron-made parers manufactured in 1869 by the Tripp Brothers in Sodus, New York.
Inside the Mill visitors may sample fresh apples, cider and more than 40 different specialty foods including extra-sharp, cave-aged cheddar cheese, sweet butter-cream fudge, apple and corn salsas plus all the wines and hard ciders from the Mill's Farm Winery.
Sunday will feature lyricist and impressionist, Ody B. Goldy, who will entertain visitors with his humorous tributes to well-known performers. Naming the song and writer will win some fresh cider. The festival and parking are free.
The Mill is located just minutes from Cooperstown, New York in the heart of Upstate. For more information on this and other events at the Fly Creek Cider Mill visit the website http://www.flycreekcidermill.com. For more information on the Cooperstown area visit http://www.thisiscooperstown.com.
Click here to view a commercial Bonanza Brand Parer in action.
Click here for recent Fly Creek Cider Making news coverage by NTD World News
###