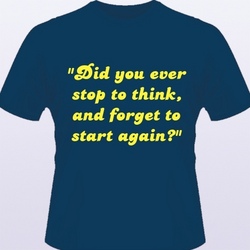 Everybody Wins at the Emmys®
Wilmette, IL (PRWEB) August 11, 2009
Coin That Phrase (cointhatphrase.com) the one and only website that lets people coin a phrase and share it with the world, ranging from just a listing on the site to various marketing opportunities such as t-shirts, mugs and a variety of other merchandising possibilities, is getting the phrase out in a weekly newsletter. Filled with info, fun facts, contests, special discounts, and all the latest going on with the word play world, this newsletter is way better than all those holiday ones you suffer reading through because you are a nice person.
The site is generating buzz on social networking sites, and being blogged about in coffee shops all over the country with people sharing their favorite sayings and creating new ones. Now, Coin That Phrase is also going to Hollywood! Yes, this year's "Everybody Wins at the Emmys®" Nominee Bag, with all those nifty niceties that the presenters and celebrities receive, will be filled with a mug, t-shirt and gift certificate courtesy of Coin That Phrase. Who says television and literacy can't mix?
Coin that Phrase was created by a team of people who love words and want to connect community, commerce and social networking into a fun site for work and play. The creators of the site are deeply rooted in the worlds of technology, community and merchandising.
The Coin That Phrase Newsletter will chronicle all the latest in the world of phrases, original and classic, and how the events of the day generate new cultural phrases which quickly become part of our social network. As soon as President Obama said that the Cambridge Police reacted stupidly (CNN did a segment on that phrase), someone coined "I'm With Stupidly" on a t-shirt. NBC TV devoted a TV special on August 5th highlighting the 50 funniest TV phrases of all time, many of which were already on the Coin That Phrase website.
Coin That Phrase is the website that works like a town hall meeting, playground, and town crier, and even gives you the means to merchandise that clever response to daily life. The Newsletter welcomes comments, suggestions, insights, random thoughts, and feedback.
To find out more go to http://www.cointhatphrase.com
Also on Twitter: twitter.com/CoinThatPhrase
For a limited time get 20% off your next t-shirt purchase by using coupon code ctp20sport.
###