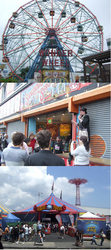 Coney Island's Fifth Avenue
Brooklyn, NY (PRWEB) August 20, 2009
It took until mid-August, but it finally happened: The rain let up and the East Coast fell into the grip of the first real heat wave of the summer of 2009.
We're biased, of course, but we think that for all New Yorkers, this has been one of the hottest summers ever … and we're not talking about temperature. Because Coney Island is back, baby - and The Coney Island Boom A Ring (http://www.ringling.com/coneyisland) is thrilled to be a part of it all! To paraphrase Mark Twain: Rumors of Coney's death have been grossly exaggerated.
So if the rain has kept you away, if you haven't feasted on the smorgasbord of entertainment that Coney Island has to offer, we encourage you to consider these 10 must-do activities - but hurry: Labor Day is *gasp* right around the corner!
1. Ride The Cyclone - For roller coaster fans, The Cyclone is the stuff of legend. It first thrilled riders in 1927 and was declared a New York City landmark in 1988. There's nothing like it. Anywhere.
2. Eat a Nathan's Hot Dog - You don't have to eat 68 hot dogs in 10 minutes like Joey Chestnutt did on July 4, but you can't feel much more American than when you're eating a Nathan's dog at Coney.
3. Visit the Coney Island History Project - This non-profit organization opened its new exhibition center in 2007 in a former souvenir store directly below the Cyclone. Admission is free.
4. Take a Skate In Dreamland - Strap on the roller skates and get ready to party! Lola Staar's rink is a rollicking good time, with funk, soul, disco and old school skate music filling the salty sea air.
5. Ride the Wonder Wheel - Built in 1920, the 150-foot-high Wonder Wheel became an official New York City landmark in 1989. Ride it twice: once in a stationary car and once in a swinger … if you dare.
6. Take a Dip - Coney Island's beach stretches from West 37th Street at Seagate through Coney Island and Brighton Beach to Manhattan Beach, a distance of approximately 2½ miles. Surf's up!
7. See a Brooklyn Cyclones Game - As of mid-August, the Mets farm team sat in first place in their division with a .632 winning percentage. Shea Stadium or Keyspan Park? You decide.
8. Visit the Sideshow - Coney Island USA presents Sideshows By the Seashore, the last place in the U.S. where you can experience a traditional 10-in-one circus sideshow. Freaks! Wonders! Human curiosities!
9. Stroll the Boardwalk - "Coney Island's Fifth Avenue" opened with great fanfare on May 15, 1923, and remains the quintessential boardwalk experience. There are 1.3 million boards along its 2.7-mile length.
10. Experience The Coney Island Boom A Ring - It's the spectacular summer seaside circus everyone's talking about. Performing till September 7 on the corner of Surf Ave. and 21st Street. You can't miss the tent … and you shouldn't miss the show!
Why not make a weekend out of it? You can save money, too: For example, your ticket stub to The Coney Island BOOM A RING (http://www.ringling.com/coneyisland) gets you discounts at the Cyclone, the Wonder Wheel and Dreamland Roller Rink.
Experience all 10 activities and call yourself a Coney Island Decathlon Champion! Because there's nothing like Coney Island - America's Playground -- anywhere in the world … except right here in New York.
About The Coney Island Boom a Ring
The Greatest Show On Earth® hits the boardwalk this summer for the very first time in its 139-year history! Ringling Bros. and Barnum & Bailey® presents The Coney Island Boom a Ring, an action-packed seaside circus spectacular in which the energy bursts out of the ring, into the audience and ricochets back to electrify the Ringling Bros.® performers. Circus-goers will enjoy an up-close and personal experience in a comfortable air-conditioned tent featuring beautiful white tigers, majestic Asian elephants and thrilling acrobats from around the world. The Coney Island Boom a Ring action bounces from one high-energy act to the next, featuring a daring crossbow demonstration that takes archery to new extremes, a globe of steel in which whizzing motorcyclists orbit at speeds of 65 miles an hour and a gravity-defying performance on the whirling Wheel of Steel. The circus is a cornerstone of the New York City summer and The Coney Island Boom a Ring is a one-of-a-kind experience that will engage all the senses while providing Children Of All Ages with a day at The Greatest Show On Earth they never imagined possible! For more information visit: http://www.Ringling.com/ConeyIsland and follow us on Facebook and on Twitter.
###