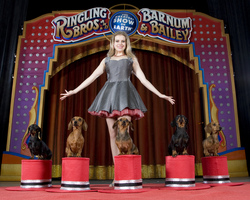 Brooklyn, New York (PRWEB) August 24, 2009
Did you know that Wednesday August 26 is National Dog Day? It's a great opportunity to honor our canine companions and to pause a moment to reflect on the importance dogs have in our lives. They've been called man's best friend for ages - and there are so many reasons why.
As part of National Dog Day celebrations, the animal experts at The Coney Island BOOM A RING (http://www.ringling.com/coneyisland) who live side-by-side with elephants, tigers and more -- including some adorable dachshunds, of course! - are passing along these terrific training tips. This is information that can be used by every dog owner looking to build a better relationship with his or her household pet:
BE PATIENT - When teaching your dog a new skill, remember to work at the dog's speed. Each animal has its own individual way of learning: Training takes time and no two animals learn at the same pace.
BE OBSERVANT - As you care for your animal 24/7, pay close attention to what it likes to do. Notice its natural behavior then expand on those behaviors to showcase the animal's unique abilities, interests, and personality.
USE REWARDS - Plenty of reward and repetition are important as you develop your lifelong bond of trust and respect with your dog. Remember to limit the amount of treats as a reward, though: Your dog needs to maintain a balanced diet.
PRAISE YOUR PET - Animals understand your tone of voice and attitude. Build your bond with your pet in a positive way that shows respect for your animal. Always give your animal lots of vocal and physical praise -- before long you'll find that your animal will respond to what you ask it to do.
BE CONSISTENT -Animals learn by repeating behavior over and over many times in the exact same way. If you're consistent in your interactions with your dog, your pet will be consistent in its responses.
BE CONCISE - Animals respond best to clear, short voice commands. Also, keep your training sessions short and limited to just a couple of times a day. Don't try to accomplish too much in one training session. Training is a series of small steps along a longer path. Always end the training session on a positive note and take time to play with your animal when you're done.
TIME AND PLACE MATTER - When you're training your dog, be sure pick a good environment that's comfortable for both you and your pet. The location should be free of any distractions for you or your animal. Also, select a time for training - like just before feeding time - when your dog is most ready to interact with you and when it will respond to getting treats.
Above all, remember that training is a partnership between you and your animal and just one aspect of the lifelong relationship you're building with your pet. Caring for your dog - or for any animal, for that matter - is a 24-hour-a-day commitment.
Happy National Dog Day from The Coney Island BOOM A RING!
ABOUT THE CONEY ISLAND BOOM A RING
The Greatest Show On Earth® hits the boardwalk this summer for the very first time in its 139-year history! Ringling Bros. and Barnum & Bailey® presents THE CONEY ISLAND BOOM A RING, an action-packed seaside circus spectacular in which the energy bursts out of the ring, into the audience and ricochets back to electrify the Ringling Bros.® performers. Circus-goers will enjoy an up-close and personal experience in a comfortable air-conditioned tent featuring beautiful white tigers, majestic Asian elephants and thrilling acrobats from around the world. THE CONEY ISLAND BOOM A RING action bounces from one high-energy act to the next, featuring a daring crossbow demonstration that takes archery to new extremes, a globe of steel in which whizzing motorcyclists orbit at speeds of 65 miles an hour and a gravity-defying performance on the whirling Wheel of Steel. The circus is a cornerstone of the New York City summer and THE CONEY ISLAND BOOM A RING is a one-of-a-kind experience that will engage all the senses while providing Children Of All Ages with a day at The Greatest Show On Earth they never imagined possible! For more information visit: http://www.Ringling.com/ConeyIsland and follow us on Facebook and on Twitter.
# # #