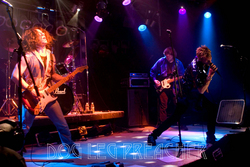 The word on this CD has already gotten out
Seattle, WA (PRWEB) July 22, 2009
As the dog days of summer 2009 approach, the stir in the Dog Leg Preacher camp reaches a fever-pitched crescendo. This American rock group is currently finishing up two major projects that will coincide precisely with these coming dog days.
First, Dog Leg Preacher have just finished their first feature film. This reality rockumentary, Hang Me, the Sturgis Roadtrip, is a one-hour film detailing the events of the group's performances at the world-famous Black Hills motorcycle rally in Sturgis, South Dakota. For the uninitiated, the Sturgis rally is the largest, noisiest, and wildest party in the world -- eclipsing even spring break. The town is overrun for a week by approximately six hundred thousand wild revelers. Dog Leg Preacher's trip to this gigantic party is documented in the film which includes multiple clips of their five performances at the legendary Buffalo Chip campground. The "Chip," as it's often called, has presented an incredible array of talent in the past such as Kid Rock, Alice Cooper, ZZ Top, and Puddle of Mudd.
The premiere of the Hang Me film will be August 21 at the King Kat Theater in Seattle, Washington. Dog Leg Preacher will also perform and share the stage with California rockers LBC Sublime. These performances are all part of the Dream Fest, an all-weekend fund raising event for abused children.
Next, Dog Leg Preacher will release their new CD, Abscess on August 12. Abscess is their first major release since the June 2001 release of Dog Leg Preacher (a.k.a. #1) which went on to get great reviews, receive airplay, and sell worldwide. The delay between the releases is due to an emergency brain surgery to remove an abscess that had formed in the head of Jon Fosdick, the band's drummer and songwriter a few years ago. Many of the songs on the new album were written during Jon's recovery, hence the title and interesting album artwork featuring actual x-ray images of Jon's abscessed brain!


The new album features the masterful guitar playing of Peruvian guitar legend Marcelo Portaro and the low-down rumble of veteran rocker Vogard Kane on bass guitar. Portaro and Kane both joined Dog Leg Preacher in 2008. Their extraordinary contributions invigorate Dog Leg Preacher to reach new levels of performance on Abscess and in their live shows.


"The word on this CD has already gotten out," comments Dog Leg Preacher singer Capt. Joe Kurke. "The official Dog Leg Preacher website has already received over four million hits in the last couple of months. The requests for radio appearances have already started coming in, and this CD is not even in the can yet."


Fosdick also noted, "We must be tapping into a newer market or something here, we are already getting requests from around the globe and the CD is not even done yet."


Currently working under their own label Dog Leg Preacher is setting their own high water mark for the truly independent artists.


"We have put a lot of time money and energy into this new album, and we are very excited for the future," says band manager Kevin Smith.


So as the dog days of summer begin fade into autumn, Dog Leg Preacher plans on doing a bit more than just raking in the autumn leaves.
As an added note Dog Leg Preachers producer and good friend; Seattle music icon Tom Pfaeffle, was murdered Saturday July 18th. This new album was Tom's last completed project, and will contain a memorial in his honor.
###