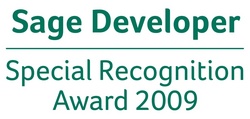 In its history and in the ten years I've been running the Sage Developer Awards, we've never before presented this award or credited one single software developer in such a high profile way.
Leicester, UK (PRWeb UK) December 4, 2009
Sage (UK) Limited, the business software and services provider, has presented its first ever special recognition award to Draycir, the business and credit control software developers.
The Sage Developer Special Recognition Award has never been presented before, with the first accolade going to Draycir for its outstanding software achievements and commitment to software development, service and business support.
Darren Liddell, Manager of Sage's Developers Programme, said: "In its history and in the ten years I've been running the Sage Developer Awards, we've never before presented this award or credited one single software developer in such a high profile way.
"In recent years, Draycir has won Sage Developer Awards in all categories, and always made it as finalists, whenever they've applied. Year-on-year they impress us and the judges decided to take the unusual step of rewarding and celebrating Draycir's achievements with the creation and giving of this unique award."
Directors of Draycir, Robert Ball and Richard Reaveley, collected the award from Darren Liddell at the annual Sage Gala Dinner for business partners, held at Alnwick Gardens in Northumberland on 25 November 2009.
Richard Reaveley from Draycir, said: "This award from Sage pretty much tops off a great year for Draycir. You never expect an award to be presented solely in your own honour. Not only was it a great surprise for our software and business to be singled out amongst our contemporaries, but a fantastic reward for the Draycir team for all their hard work."
In the last few months, Draycir has won a number of awards, including the Paperless Office Software category at the Software Satisfaction Awards announced in October 2009, and finalists in the Software Vendor of the Year category against industry giants Pegasus and Salesforce.com. Draycir also recently launched Credit Guardian – business credit checking software that merges real-life accounts data with credit risk information from Experian, the global information services company.
The judging panel for the Sage Developer Awards is made up of senior Sage representatives from across the business, including R&D, commercial development, and sales and marketing. Open to Sage's growing community of over 900 third-party software developers, the Sage Developer Awards recognise developers most committed to offering all-round excellence in both development and innovation.
Draycir became a Sage developer in 2002, and all its business software for document distribution, credit control and credit risk management integrates with Sage's business software, which is used by more than 760,000 businesses in the UK.
Notes to Editors:
About Draycir http://www.draycir.com
Draycir is a software development company. We create software that provides practical solutions to real business problems – helping businesses to reduce their environmental impact, cut costs and bad debt, and improve cash flow.
Our multi award-winning software is used by small and medium-sized firms, all well as public sector organisations to enable them to trade more intelligently and reduce the risk of bad debt. Based in Leicester, UK, there are currently more than 1,700 businesses using our software in the UK and we have won many accolades for both innovation and business excellence.
About Sage Group plc http://www.sage.com
The Sage Group plc is a leading global supplier of business management software and related services, with 5.8 million customers worldwide. Formed in 1981, Sage was floated on the London Stock Exchange in 1989 and now employs over 14,500 people worldwide.
About Sage (UK) Limited http://www.sage.co.uk
Sage (UK) Limited is a subsidiary of The Sage Group plc, a leading global supplier of business management software solutions and related products and services, principally for small to medium-sized enterprises. In the UK, Sage provides software and services to more than 760,000 businesses ranging from start-ups to large companies. This software ranges from accounts and ERP, HR and payroll, forecasting and business intelligence to customer relationship management, e-business and help for start-ups. Services include Excel Support, HR Advice, Health and Safety Advice and training courses.
###