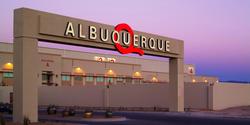 We are thrilled to welcome Todd Phillips, Robert Downey Jr., Zack Galifianakis, and the entire production's teams to our facility.
Albuquerque, New Mexico (Vocus) October 3, 2009
Principal photography is underway at Albuquerque Studios on Warner Bros. Pictures' and Legendary Pictures' "Due Date." The film is being directed by Todd Phillips, whose most recent collaboration with Warner Bros. and Legendary, "The Hangover," broke box office records this past summer. The film stars Robert Downey Jr. ("Iron Man," upcoming "Sherlock Holmes") and Zach Galifianakis ("The Hangover") as two unlikely companions who are thrown together on a road trip that turns out to be as life-changing as it is outrageous. Also cast in the film are Michelle Monaghan ("Made of Honor") and Academy Award® winner Jamie Foxx, who recently starred alongside Downey in the critically acclaimed "The Soloist."
On welcoming the cast and crew from "Due Date," Albuquerque Studios COO Nick Smerigan said, "We are thrilled to welcome Todd Phillips, Robert Downey Jr., Zack Galifianakis, and the entire production's teams to our facility."
Downey plays Peter Highman, an expectant first-time father whose wife's due date is a mere five days away. As Peter hurries to catch a flight home from Atlanta to be at her side for the birth, his best intentions go completely awry when a chance encounter with aspiring actor Ethan Tremblay (Galifianakis) forces Peter to hitch a ride with Ethan—on what turns out to be a cross-country road trip that will ultimately destroy several cars, numerous friendships and Peter's last nerve.
Todd Phillips directs from a screenplay by Alan R. Cohen & Alan Freedland and Adam Sztykiel & Todd Phillips, from a story by Cohen & Freedland. The film is being produced by Phillips and Dan Goldberg, who previously collaborated on "The Hangover." Scott Budnick, Thomas Tull and Susan Downey are serving as executive producers on the film.
The behind-the-scenes creative team from "The Hangover" returns, including director of photography Lawrence Sher, production designer Bill Brzeski, editor Debra Neil-Fisher and costume designer Louise Mingenbach.
"Due Date" is currently scheduled for a Fall 2010 release.
Warner Bros. Pictures presents, in association with Legendary Pictures, A Green Hat Films Production of A Todd Phillips Movie, "Due Date," to be distributed worldwide by Warner Bros. Pictures, a Warner Bros. Entertainment Company.
As principal photography for "Due Date" has commenced throughout the USA, in addition to other New Mexico locations, Albuquerque Studios SVP Jeremy Hariton stated, "Warner Bros. continues to be as incredibly supportive of Albuquerque Studios and the New Mexico Film Industry, as they have been since we opened our facility. We are honored to be associated with both Warner Bros. and Legendary Pictures."
Details and further announcements about "Due Date," and other productions at Albuquerque Studios may also be followed on Twitter.
Requests for interviews and photo ops should be directed to Gail Smerigan, VP Communications, Albuquerque Studios.
About Albuquerque Studios:
Albuquerque Studios is New Mexico's premier full-service studio complex. Situated on 38 acres, the 91.4 million-dollar facility boasts eight (8) hi-tech sound stages totaling nearly 170,000 square feet; 78,000 square feet of production office space; 70,000 square feet of Mill Space; and the southwest's fullest compliment of industry support services: lighting & grip, camera, heavy equipment, telecom & data, and more. With several high-profile movies under its belt, Albuquerque Studios was recently ranked as the top independent studio in the U.S., while the impressive campus of soundstages and production offices currently house several feature film and television productions.
Contact:
Gail Smerigan, VP Communications
Albuquerque Studios
505-227-2000
###