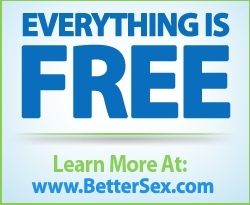 Help as many people as possible over Labor Day Weekend and we will sort out the pieces later.
Hillsborough, NC (Vocus) September 5, 2009
After watching director Ang Lee's new film Taking Woodstock Martin Smith, a Director at BetterSex.com, had a crazy idea - find a way to give the adult sex education DVD's and sex toys his company creates away free. "I came home and wrote a blog post about Woodstock as the first Freemium a la Wired Editor Chris Anderson's book Free: The history of a radical price and got a crazy idea," Director Smith explained.
Martin's idea was to help couples improve their love lives by giving away anything below $39.99 when customers buy one of two Sinclair Institute films:

"Our mission is helping couples create enduring intimacy," Director Smith explained. "We know our DVD's help 98% of the time," Mr. Smith laughed explaining the company's average return rate is around 2%. "Every purchase at Sinclair carries our industry leading 90 day guarantee - something we can afford because our products help people," Mr. Smith said. The company understands new buyer hesitation and skepticism. Mr. Smith described the company as, "junk yard dogs about privacy." "We protect customer information and ship in nondescript packages," Mr. Smith added. Changing your love life and thus improving your entire life from watching educators and real couples discuss and demonstrate tips and techniques may seem strange. "Every hour of every day 2 new couples purchase our video series," Director Smith shared. Divorce rates go down during recessions, so finding creative ways to put spark back in a long term relationship is important.
How does BetterSex.com's Everything is Free event compare to Woodstock as the first freemium? "Woodstock the movie made enough to offset loses of Woodstock the concert," Director Smith notes, "Help as many people as possible over Labor Day Weekend and we will sort out the pieces later." Does Mr. Smith plan to be employed after Labor Day? "We are having a great year actually, but I probably read too many books and understand too little," Director Smith said laughing. In Woodstock's case a few concert goers made it possible for millions to see and experience the event through film creating the first freemium. In Sinclair's case Director Smith hopes to help as many couples as possible and see if he still has a job after dust settles. Could free be an answer for slowing recessionary web traffic and scared consumers? Mr. Smith will let you know.
# # #