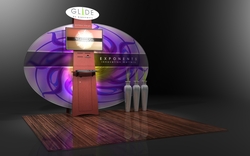 Not only is digital content potentially unlimited, including as much information as required, it can be updated quickly and inexpensively using applications like Microsoft Office PowerPoint® and Adobe Flash Player®
San Diego, CA (PRWEB) April 30, 2009
Exponents, Inc., a leading national innovator in the design and manufacture of custom-modular exhibits for trade shows, expos and conferences, has introduced its award-winning breakthrough GLIDE™, the first portable exhibit system to bring big-screen digital technology to smaller displays commonly used in 10-x-10-ft. floor spaces and retail venues like auto dealerships, health clubs, bank lobbies and hotel and restaurant meeting rooms.
Priced below $5,000 and designed to support a 50-lb. 37-inch liquid crystal display (LCD) monitor large enough to dynamically communicate an exhibitor's main messages, GLIDE™ changes how marketers who use portable exhibits can communicate at trade shows, according to Exponents' President Bruce Backer.
"With GLIDE™ we have a new and better way to approach messaging at shows," Backer said. "We can finally break free from a 30-year-old tradition of only using static printed graphics and signage in small trade show booths, which are a growth area in this business."
New products like the GLIDE™ system are welcome news for the multi-billion dollar exhibition industry, which last year experienced its first annual decline since 2002, according to the Center of Exhibition Industry Research (CEIR) Index, a leading measurement of exhibition industry performance. With estimated annual revenues of $400 million, the modular exhibit sub-segment of the U.S. trade show exhibit design and fabrication market is an industry bright spot.
The GLIDE™ system with its tapering pyramid-shaped 8-foot tall tower was the only unanimous winner of a Buyer's Choice Award recognizing it as one of the trade show industry's best new products at the EXHIBITOR2009 Conference, held recently in Las Vegas. GLIDE™, the only portable exhibit system to be honored at this year's Exhibitor Show, received praised from the judges for its eco-friendly elements, modular capabilities and contemporary look.
Large screen digital messaging projects an image of innovation and says to trade show and conference attendees that a company is truly cutting edge--not just in what it sells but also in how it presents itself. Using GLIDE™, even companies with the tightest budgets and smallest trade shows booths can showcase their products and services using the latest video technology available. Key features of the GLIDE™ system include:

An entire 10'x10' exhibit can be set up by one person in less than 30 minutes, and everything fits into a single rolling roto-molded case with a total weight of approximately 100 lbs. In addition to smaller booths, the system can also be used in islands and towers in larger trade show floor exhibits. Video monitors are rented separately.
The GLIDE™ system is environmentally responsible. The use of lightweight and recyclable materials plus LED lighting ensures a tiny carbon footprint.
The tower, made of ultralight high-strength plywood front and back and bonded metal and thermoplastic sides, also provides integrated locking storage for computer equipment or personal effects.
Digital content in a booth can be dynamic and include video and animation, which tends to be much more interesting than static backwall graphics, observed Backer.
"Not only is digital content potentially unlimited, including as much information as required, it can be updated quickly and inexpensively using applications like Microsoft Office PowerPoint® and Adobe Flash Player®," he said.
What has been missing in smaller trade show booths until the arrival of the GLIDE™ system is a support structure strong enough to hold video monitors weighing up to 50 lbs.
"Portable exhibits haven't been sturdy enough to support a large monitor at eye level, so key information is printed on fabric or vinyl wall panels that are expensive to produce," Backer explained. "If a company attends trade shows in multiple markets, the panels will often have to be changed from show-to-show to keep the messages relevant."
Exponents addresses that problem head on by introducing affordable large-screen video into the mix. GLIDE™ supports an LCD video monitor and a keyboard or laptop shelf on the 8-foot tall tower, which rests on a solid 2-x-2-ft. base--the key to its stability in supporting a heavy monitor.
The GLIDE™ system also features a unique oval-shaped banner to provide a visual presence that makes a booth stand out from typical look-alike portable booths. For a more conventional look, a rectangular backdrop is available. Both backdrops are illuminated with high-output LED lighting.
"This is the right system for the times," said Backer. "It's affordable, environmentally friendly, easy to set up, supports large screen video and has a unique, attractive look that is sure to catch attention on the exhibit floor. GLIDE™ changes the way portable exhibit users will approach trade show exhibiting."
The GLIDE™ system starts at less than $4,900.00 and typically ships within five to 10 working days, depending on laminates and graphics. Each GLIDE™ system is made to order based on a choice from among eight different models which vary slightly in their composition. Complete details are available from any Exponents dealer or by calling 1-800-451-4723. Additional information is also available at http://www.exponents.com.
Exponents, Inc. is one of the nation's most highly-respected custom-modular exhibit designers and manufacturers. Thriving on innovation, the company has helped its clients to achieve their trade show goals for over 25 years. The results are in striking trade show exhibits that showcase products and build brand. Visit our website at http://www.exponents.com.
Click Here for High-resolution photos.
Adobe Flash Player is a registered trademark of Adobe Systems Inc.
Microsoft Office PowerPoint is a registered trademark of Microsoft Corporation
###