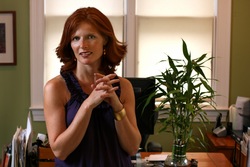 Even though SimplySoles is an online business, we are able to serve as a personal shopper for our customers. People need to get the best value for their money and having personal feedback from a trusted resource allows the customer to have more confidence with their buying decisions
Washington, DC (Vocus) September 16, 2009
When Kassie Rempel started her catalog and online shoe boutique SimplySoles in 2004, she knew that her clientele would expect more from their online shopping experience since she was targeting an affluent crowd by selling designer women's shoes such as Tory Burch and Bettye Muller. Hence, she implemented several strategic customer service strategies that have been fine-tuned through the years and have inspired extreme customer loyalty—a feat that has kept her business thriving despite current economic conditions in the luxury retail marketplace.
SimplySoles Customer Service Strategies:

Staff available via live chat, phone, Twitter, Facebook and email
Gives recommendations upon request on product pairings, styling and sizing
Each order is accompanied with a hand-written thank you note
Loyal shoppers are sent shoes "on loan" to try on before purchase
Free shipping on orders of $75 or more, free exchanges, free returns
Kassie's Closet demonstrates how items from SimplySoles can be styled with clothing and accessories from 3rd party web sites
"Even though SimplySoles is an online business, we are able to serve as a personal shopper for our customers. People need to get the best value for their money and having personal feedback from a trusted resource allows the customer to have more confidence with their buying decisions," says Rempel.
Creating an intimate, inviting place to shop online is difficult – but personalizing each person's experience has remained paramount and continues to drive revenue to the bottom line for this innovative entrepreneur.
Frustrated by the poor selection of shoes offered for sale online and in fashion catalogs, Rempel turned her passion for shoes into a successful business and founded SimplySoles in 2004 with the hopes that other women would appreciate shopping for designer shoes from the comforts of home. In 2008, Rempel launched a new private label line called lillybee. Her travels around the world in search of impeccable shoe designers brought her to a small factory in Brazil. Pleased with the quality craftsmanship and the factory's unusual and refreshing attention to detail, the lillybee line was born and is now available exclusively at SimplySoles. Rempel has been named as one of the top five emerging entrepreneurs in Entrepreneur magazine and recognized by the Washington Business Journal as one of the 2008 Women Who Mean Business.
Blog
Twitter
Facebook
YouTube
Web site
###