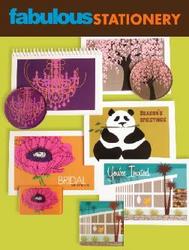 My inspiration comes from so many things: fabric, fashion, nature, architecture, friends, even pets
Philadelphia, PA (PRWEB) April 1, 2009
FabulousStationery.com, the successful online stationery retailer, is launching their wholesale line at the NY National Stationery Show. The show will be held at the Jacob K. Javits Convention Center, May 17th thru 20th 2009.
Fabulous Stationery's online store went live five years ago, and has continued to grow each year. Their success has been attributed to their unique contemporary designs as well as maintaining a reputation for excellent customer service.
Co-owner Trish DeMasi is the exclusive designer of all the Fabulous Stationery designs. She has a talent for taking nostalgic designs and reinterpreting them in a way that makes them clean and modern. "My inspiration comes from so many things: fabric, fashion, nature, architecture, friends, even pets," said DeMasi.
Fabulous Stationery's wholesale line will feature select FabulousStationery.com designs, and consist of note cards, party invitations and announcements sold in sets of 6 or 12. The line will also include single blank cards as well as greeting cards. The desktop accessory line will feature notebooks, frames, mouse pads, magnets, pens, pocket mirrors and totes.
Although one of FabulousStationery.com's signature features is personalization, the wholesale line will feature designs with or without generic text. If retailers receive requests from their customers for note cards with certain phrases, they will have the option of customizing the text on large quantity orders with an up charge. "This will give store owners some creative control over their inventory," Julie Schelling, the company's Sales and Marketing Director, said.
"We are very excited about the upcoming launch of the wholesale line. Many of our customers own retail stores and have asked us to offer a wholesale line--now we can finally do it! Customers rave about our products, and our hope is to extend the Fabulous Stationery brand to a wider customer base," Schelling added.
FabulousStationery.com has caught the attention of many national publications, including Time Magazine, Marie Claire, In Style Weddings, Life & Style Weekly, Flare, Better Homes & Gardening Decorating, Cottage Living, The Nest and Out Magazine.
For more information regarding the content of this press release, please contact Julie Schelling at 1.800.521.5443 or visit http://fabulousstationery.com.
###