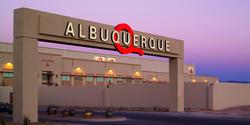 a company of Groove Addicts' caliber is exactly the type of partner we look for to bring to Albuquerque Studios; our clients expect first-rate production support services to be available locally, and Groove Addicts provides just that and more.
Albuquerque, New Mexico (Vocus) September 25, 2009
Albuquerque Studios and Los Angeles-based firm Groove Addicts have partnered to provide the full scope of their world-renown expertise and production music catalog for Film and TV productions working in New Mexico. Whether a production is looking for temp tracks, background cues, songs, music supervision, trailer music or sound design for commercial television or film projects, over 40,000 music tracks will be available for immediate download and license from Groove Addicts' servers at Albuquerque Studios - all qualifying for New Mexico's generous 25% rebate incentive.
Groove Addicts produces a dozen catalogs in-house, in addition to handling many of the premier music catalogs from around the world. The cutting-edge company continues to expand their catalogs' inventories giving Film, TV, Radio, Video, Audio, Video Game and Multimedia producers thousands of tracks and songs to choose from.
Given the current global production climate of shrinking budgets and cost consciousness, this is an unprecedented opportunity for producers who demand more cost-effective solutions. To this end, veteran music industry executive Michael Sandoval brought Groove Addicts to the attention of Albuquerque Studios executives COO Nick Smerigan and SVP Jeremy Hariton, who immediately envisioned the enormous potential of offering this value-added service to their existing and future client base. Sandoval states, "Albuquerque Studios has already made its mark and is ranked as the top independent film studio in the U.S., so it makes sense to partner with such a production powerhouse that is branching into the areas of post and music production. Until now, major film productions have taken advantage of the New Mexico incentive program, and now they have the ability to have the audio post and music element coming in to take advantage of this rebate, as well."
"This is a perfect compliment to our existing production services. It is an extreme value that is unique to New Mexico, and fits right in with our plan to extend the broad range of services that are available to Albuquerque Studios' clientele. We look forward to working with Groove Addicts' principal Dain Blair, and the creative energy his entire team brings to the table of the New Mexico film industry," says Smerigan.
Blair, who has been an integral part of the acquisitions and licensing of rights for projects involving artists such as, Madonna, U2, and The Police, and feature films such as, Iron Man, No Country for Old Men, and I Am Legend, enthusiastically shares, "I see this as a win/win/win situation for Albuquerque Studios, their clients, and Groove Addicts. We're really pleased to be associated with the first-class operation that Nick and Jeremy have built in Albuquerque and we look forward to adding a first-class music solution for their clients."
Echoing Smerigan's comments, Jeremy Hariton adds, "a company of Groove Addicts' caliber is exactly the type of partner we look for to bring to Albuquerque Studios; our clients expect first-rate production support services to be available locally, and Groove Addicts provides just that and more."
Details and further announcements about Groove Addicts, Albuquerque Studios, and New Mexico's Incentive Program for Film may also be followed on Twitter.
High Definition video trailers and sample audio tracks are available for immediate download from the Groove Addicts Website. Feature film and television client portfolio reels, recent interviews, and other highlights may be viewed in HQ video on the Albuquerque Studios YouTube Channel. Requests for interviews and photo ops should be directed to Gail Smerigan via email: media(at)abqstudios(dot)com.
About Groove Addicts:
Dain Blair, whose broadcasting, music production, publishing and management experience spans over 25 years, founded groove Addicts in 1996. Blair has been involved in acquisitions and/or licensing rights for projects such as Live Aid, USA for Africa, Madonna – The Virgin Tour, The Police – Synchronicity Tour, Amnesty International, and U2 - Live at Red Rocks. Groove Addicts continues to work with award-winning film and television composers such as, James Horner, James Newton Howard, Stewart Copeland, Danny Elfman and Thomas Newman, and scores of other celebrity music icons. Other recent credits include the theme and score for primetime TV shows like ABC's The Goode Family, SuperNanny and Extreme Makeover Home Edition; NBC's Deal Or No Deal, and A&E's Tattoo Highway.
About Albuquerque Studios:
Albuquerque Studios is New Mexico's premier full-service studio complex. Situated on 42 acres, the 91.4 million-dollar facility boasts eight (8) hi-tech sound stages totaling nearly 170,000 square feet; 78,000 square feet of production office space; 70,000 square feet of Mill Space; and the southwest's fullest compliment of industry support services: lighting & grip, camera, heavy equipment, telecom & data, and more. With several high-profile feature films under its belt: Gamer, Terminator Salvation, and Book of Eli, Albuquerque Studios was recently ranked as the top independent feature film and television studio in the U.S. The facility currently houses the Emmy award-winning production Breaking Bad and several feature film productions.
Contact:
Gail Smerigan, VP Communications, Albuquerque Studios
505-227-2000
media(at)abqstudios(dot)com
###