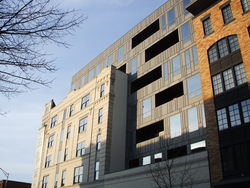 Hoboken, N.J. (PRWEB) February 25, 2009
Del-Sano Contracting Corp. has completed construction of Garden Street Lofts, a luxury residential building in Hoboken, New Jersey. Garden Street Lofts' certification is pending as New Jersey's first luxury residential project to earn the Silver LEED (Leadership in Energy and Environmental Design) rating. The $16.8-million redevelopment project will also be Hoboken's only LEED-certified residential building upon certification. The project took 25 months to complete and is already 50% sold.
Garden Street Lofts was redeveloped from an existing 42,888-square-foot, structural steel, concrete and masonry, former coconut processing and storage warehouse that was erected in 1919. Del-Sano built a new 35,054-square-foot, seven-story structural steel and concrete addition with gauged metal-perimeter wall framing and a Zinc rain screen façade. The addition rises above and is linked to the restored cast-in-place concrete building at the original fifth floor roof level. The mixed-use complex includes 30-luxuriously appointed one-, two-, and three-bedroom, loft-style condominiums. Also, at ground level there is a total 7,500 square feet of open floor plan that is suited for prime retail space facing 14th and Garden Streets.
The building offers proximity to public transportation to New York City, as well as major highways including the New Jersey Turnpike and the Garden State Parkway. Garden Street Lofts also features structured cable for high-speed data and communications, as well as individually-controlled, multi-zone HVAC and audio/video entry security systems, Italian kitchens, and high-end appliances. Select units also offer double-height ceilings, fireplaces, hot tubs and IPE wood terraces.
According to Larry Bijou of Bijou Properties LLC, the project owner, "It took years of effort by some of the best and freshest minds in the industry to create a model for sustainable residential development that offers comfort, style and beauty, while being sensitive to the impact on the environment. The City of Hoboken is an ideal setting for this model because of its historical significance, proximity to New York City, and urbane mindset."
LEED promotes a holistic building approach to sustainability by recognizing performance in five key areas of human and environmental health: sustainable site development, water savings, energy efficiency, materials selection and indoor environmental quality. While the re-use of the Coconut Building is perhaps the ultimate in recycling, the many sustainable development highlights of the project include:

A sedum-covered green roof designed to prevent flooding, as well as absorb rainfall and outside sound, making for a safer, cleaner, and quieter environment. Comprised of greenery and soils specially selected to prevent storm-water runoff, the green roof provides insulation, produces oxygen and reduces heat pollution. The foliage-covered roof creates significantly lower heat emissions compared to black asphalt, which will ultimately decrease energy use and residents' energy bills.
Free access for residents to public transportation such as the PATH and the Hoboken Ferry.
Optimized energy performance using special window glass and Viracon Low E VE 1-42 glazing to help maintain optimal indoor temperatures.
The use of low emitting, recycled, locally manufactured, and rapidly renewable materials such as structural steel and zinc facade, bamboo flooring, cotton insulation, FSC certified wood, FSC IPE Decking and Siding, No VOC Paint and Low VOC coatings. (IPE is a hardwood from Brazilian growers that harvest under the guidelines and techniques of sustainable yield forestry management. It contains no toxins or chemicals.)
Separate HVAC systems for the apartments and for the corridor and lobby spaces, which provide fresh, filtered cool and warm air to those spaces via 100% outside air rooftop air handling units.
The building's design will utilize 24% less energy in heating, cooling and lighting, as well as 20% less water than a standard building, which, in turn, will afford lower utility bills.
The building was constructed utilizing criteria from the LEED New Construction Guidelines version 2.1. During each stage of construction, the onsite team met to review/implement the guidelines, with an emphasis on construction waste management, diversion from landfill material, and adherence to an indoor air quality management plan.
Construction waste management initiatives allowed 88% of building construction waste materials to be recycled during the construction process. These materials included, wood, metals, concrete, masonry, drywall, cartons/crates, and glass.
100% of the electrical power will be purchased from wind and other alternative energy sources.
The site positioning maximizes the use of daylight and views.
A green housekeeping program for the building management company.
Sustainable education offered through building tours, web site links and information, and a case study.
"Del-Sano was the ideal construction partner to redevelop Garden Street Lofts. Their knowledge of sustainable materials and LEED requirements, energy efficient systems and sustainable construction processes, as well as their commitment to the highest quality and attention to detail, were evident everyday throughout the process." Bijou noted.
"We are very excited about our contributions as general contractor to this ground-breaking project because it sets new standards and a commitment for sustainable residential development here in New Jersey. In addition, Garden Street Lofts is very much in sync with Del-Sano's own commitment to the utilization of sustainable resources and efficient, energy-conscious construction," said Del-Sano CEO and Founder Angelo Del Russo.
Among the other project team members were:

Architect: Sharples Holden Pasquarelli Architects, New York, NY
MEPS Engineer: Buro Happold, New York, NY
Project Financing: TD Bank, Ramsey, NJ
Marketing Agent: Hudson Place Realty, Hoboken, NJ
LEED Commissioning Agent, Dome-Tech Group, Edison, NJ
About Bijou Properties
Garden Street Lofts was developed by Bijou Properties, which has already received recognition for successfully redeveloping urban properties and for the adaptive re-use of a former industrial and warehouse building along the Hudson River waterfront. The company is committed to incorporating sustainable design and construction into its projects. Bijou Properties recently completed the renovation of the former Hostess Building, which is adjacent to Garden Street Lofts, into a prime retail property in Hoboken. Tenants include the New York Sports Club, Washington Mutual Bank, and CVS pharmacy.
About Del-Sano Contracting Corp.
Del-Sano Contracting Corp. a member of the US Green Building Council (USGBC), is a skilled and qualified builder of LEED-registered projects. The firm is committed to setting new standards for sustainable development through ongoing education and training, responsible use of natural resources, and the integration of principles of sustainable development in its day-to-day activities and client projects.
Established in 1975, Del-Sano provides full-service, commercial general construction and construction management services to a distinguished and diverse client base located throughout the New York metropolitan area. The firm, which ranks among the 25 largest general contractors in New Jersey, is engaged in the construction and development of commercial, institutional, retail, multifamily (including senior, affordable and luxury housing) high-rise, multi-level and framed structures, as well as recreational facilities and historic renovation projects.
###