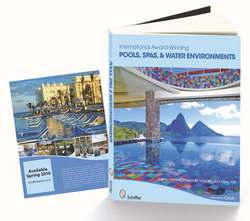 It was an excellent idea to support these inaugural awards; we look forward to the GAVA awards becoming a level of accomplishment all in our industry aspire to attain, stated Mark Farino, Light Streams Glass Tile, GAVA Gold for Jade Mountain.
Las Vegas, NV (PRWEB) December 14, 2009
GAVA: Global AquaTekture Visionary Awards announced the winners of the inaugural competition, at an awards reception held at the Palms Hotel in Las Vegas on November 15th. The award salutes the innovative spirit of artisans from every segment of the globe, celebrating diverse concepts from varying cultures, environments and philosophical aspects.
Gold, Silver and Bronze awards were presented to thirty-nine projects by architects, contractors, homebuilders, pool builders, artists and landscape architects from across the globe. Master of Ceremonies for the reception was internationally recognized TV Host, John Daly of REAL TV.
GAVA presented by Three V Enterprises, a Las Vegas based corporation, transcends beyond the traditional water-themed design awards by hosting an integrated world-wide competition open to design professionals of all genres dedicated to influencing and creating thought-provoking solutions.
Judges from several disciplines: Architect & Urban Planner Charles Kubat, Kubat Consulting, Art Curator Melissa Menard, Pieces Fine Art and Interior Designer/Educator Nancy Bohnett, The Art Institute Las Vegas rated entries on atypical designs and innovative applications that surpassed the boundaries of traditional water feature solutions.
Entries were judged on their aesthetic beauty as well as how each exemplified the objectives of the project; designs exhibiting original and diverse concepts that demonstrate respect for environmental, cultural, philosophical, and/or historical components.
Winners hailing from Australia, Canada, Mexico, Venezuela, the Caribbean and the United States will be featured in a full-color book published by Schiffer Publishing, http://www.schifferbooks.com due for release in Spring of 2010. The GAVA Team and Sponsors; Structure Studios, Zodiac Pool Products, Brand, ltd., and Paramount Pool and Spa Systems congratulate the winners.
Three V Enterprises is a corporation devoted to developing platforms to honor, educate and inspire architects, designers, builders, manufacturers, and developers worldwide. http://www.gavaawards.com
The Inaugural GAVA GOLD Winners and their Visionary Teams include:
RESIDENTIAL DIVISION:
ATM, acrylic manufacturer, United States
Attanasio Landscape Architect, landscape architects, United States
Cameo Pools, pool contractor, United States
Dal-tile Corporation, tile manufacturer, United States
Euro Pools, LLC, pool contractor, United States
Indigo Pool and Spa, Inc., pool contractor, United States
International Landscaping, Inc, landscape design and build contractor, Canada
Islander Pools, pool contractor, United States
Leslie Rankin, Glassic Art, artist, United States
Mosaicos Venecianos de Mexico/Kolorines, mosaic manufacturers and mural studio, Mexico
Natural Water Environments, pool contractor, United States
Nuvis Landscape Architect & Planning, landscape architect, United States
Paragon Pools, pool contractor, United States
Sun West Custom Homes, custom home builder, United States
Stuart Bevan Pools Pty. Ltd., pool contractor, Australia
Tannie's Design Works, interior designer, United States
Venezolana de Piscinas, pool contractor, Venezuela
COMMERCIAL DIVISION:
Jade Mountain, resort, Caribbean
Mosaicos Venecianos de Mexico/Kolorines, mosaic manufacturers and mural studio, Mexico
Pueblo Bonito Oceanfront Resorts and Spas, Mexico
A complete list of winners is available on the GAVA website, http://www.gavaawards.com
About GAVA
GAVA, recognizes artisans globally who's visions and creativity exemplify the best in AquaTekture; the discipline of designing, engineering and erecting of water environments and ancillary components, in a harmonious nature with consideration to function, space and aesthetics. The competition is open to professionals from all associations, allowing them to compete in the global market. GAVA acknowledges the most groundbreaking concepts, designs, materials and applications of water-inspired environments from across the globe in commercial, mixed use, hospitality, public use, recreational and residential, in both interior and exterior applications. http://www.gavaawards.com. Contact: Mary Vail, Publicist 702.289.2225.
About Structure Studios®
Structure Studios® is a software development company specializing in 3D visualization. With international headquarters based in Las Vegas, Nevada, Structure Studios® spans the globe with thousands of pool builders, designers and salespersons actively using the program in fifteen countries including in the US, Australia, Mexico, and the United Arab Emirates. http://www.structurestudios.com.
# # #