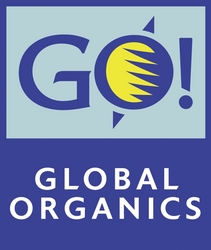 We're pleased to have finally found a certification that reflects the values our company has always tried to uphold in our relationships
Arlington, MA (PRWEB) September 15, 2009
Global Organics, Ltd., one of the nation's leading suppliers of organic ingredients, (http://www.global-organics.com) today introduced "EcoSocial" certified organic cane sugar to North America. The EcoSocial certification promotes "ethical trade" by integrating economic, social and environmental criteria to create a "3-in-1" certification that covers the entire supply chain.
"We're pleased to have finally found a certification that reflects the values our company has always tried to uphold in our relationships" said Dave Alexander, Founder and President, Global Organics, Ltd. "EcoSocial's focus on total transparency, strong social and environmental standards, and the ability for growers and producers to choose projects that best benefit their specific communities and circumstances make EcoSocial a uniquely vital certification. It's the certification we've been waiting for."
Launched by South America's organic certification pioneer, IBD Certifications, (http://www.ibd.com.br)the EcoSocial seal is distinguished by three unique criteria:
"3-in-1" Certification - The EcoSocial seal sets stringent criteria for full certification in three areas: economic, social and environmental, yet it allows flexibility to accommodate best practices given regional context, culture, and the product being produced.
Traceability - EcoSocial is the first certification to require organic producers and their partners to make the specific projects they support and the funds being allocated to those projects transparent to the public. Without exception, all premiums from the sale of the EcoSocial certified product go to benefit the producer communities.
Improvement - EcoSocial is not a certification that can be bought by simply paying a premium. It requires participating growers and organizations to choose at least two social and two ecological goals to be supported by premiums generated from the sale of their product, and requires continuous improvement in pursuit of those goals in order to maintain the certification.
"Organic Valley welcomes this long-awaited opportunity to certify that the organic sugar we use meets stringent social and economic criteria," said George Siemon, founding farmer and CEO, Organic Valley, (http://www.organicvalley.coop) the country's largest cooperative of organic farmers. "We encourage the organic community to join us in support of EcoSocial's 'ethical trading' principles which encompass not only economic but community and environmental issues as well."
About Global Organics
Global Organics, Ltd. (GO!) is one of the nation's leading suppliers of organic ingredients. Founded in 1992, its mission is to support organic agricultural projects that bring social and economic benefits to communities through the sale of their organic products, including certified organic sugar cane, chocolate, fruits, nuts and coconut products. For further information, contact Global Organics, Ltd., PO Box 272, Arlington, MA 02476, tel. 781-648-8844 (http://www.global-organics.com).
# # #