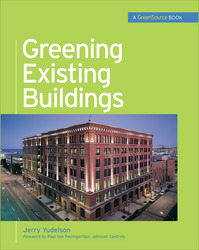 In Greening Existing Buildings, I profile the fastest growing trend in the green building movement – upgrading existing buildings. This trend is being seen throughout the U.S. and Canada, especially with the growing focus on global warming and reducing the carbon emissions from building operations
Tucson AZ (Vocus) November 5, 2009
What's the fastest growing sector of the green building movement? Not the usual architectural highlights of zero energy buildings seen in trendy design magazines, but the more prosaic existing building upgrades profiled in Jerry Yudelson's latest green building book, Greening Existing Buildings (McGraw-Hill Professional, November 2009).
"In Greening Existing Buildings, I profile the fastest growing trend in the green building movement – upgrading existing buildings. This trend is being seen throughout the U.S. and Canada, especially with the growing focus on global warming and reducing the carbon emissions from building operations," says Yudelson.
According to Yudelson, in the first nine months of 2009, while new commercial building construction was falling, registrations at the U.S. Green Building Council for existing building upgrades were growing more than 100% from 2008 (end of year) totals. In fact, during that period, more than 450 million square feet of existing buildings signed up for the LEED for Existing Buildings – Operations and Maintenance Certification program. (Source: U.S. Green Building Council)
In the book, Jerry Yudelson profiles dozens of LEED-certified renovation and retrofit projects around the U.S. and Canada, presents a solid business case for greening existing operations, and shows how leading real estate management companies are moving forward with building upgrades even in the face of a staggering recession.
"In this book, I provide a practical and comprehensive guide to greening existing buildings, featuring energy saving green operations, water conservation upgrades, marketing strategies, corporate sustainability programs and a 10-point best practices program for greening any real estate portfolio," added Yudelson. "Through interviews with more than 25 green building authorities, I show how the LEED program generates more than 50% annual cash-on-cash returns for building owners. It's really a no-brainer for any building owner."
Aimed at professionals in building renovation, construction and operations, along with those engaged in real estate finance and policy makers in government, the book provides an introduction to how sustainability thinking and green building operations are changing this huge commercial sector.
The 336-page hard cover book is part of McGraw-Hill Professional's GreenSource series and is available from amazon.com.
You can preview chapter 3 of the book here.
About Yudelson Associates
Yudelson Associates is a leading international firm in sustainability planning and green building consulting. The founder, Jerry Yudelson, is widely acknowledged as one of the nation's leading experts on green building and green development. He is the author of 11 green building books and serves as Research Scholar for Retail Real Estate Sustainability for the International Council of Shopping Centers, a 70,000-member international trade organization. He is a frequent green building speaker at industry and professional conferences and chairs North America's largest annual show, the U.S. Green Building Council's Greenbuild International Conference, to be held this month in Phoenix.
For more information on Yudelson Associates please visit the company's website, http://www.greenbuildconsult.com. Jerry Yudelson can also be seen on YouTube at youtube.com/jyudelson and followed on Twitter at twitter.com/jerryyudelson.
###