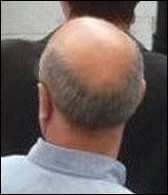 Skull expansion explains how hair loss develops.
(PRWEB) January 20, 2009
The Medical Hypotheses journal reports a possible breakthrough in our understanding of hair loss which could one day lead to a baldness cure.
Paul Taylor from HairGrowthSOS.com spent seven years of independent research into androgenetic alopecia following concerns about his own hair loss. In his article he explains how both male and female hair thinning, hair loss and baldness involves the continued growth of certain skull bones which lie directly beneath the scalp where hair loss develops. He calls this bone growth, "skull expansion".
Skull expansion seems to have finally solved certain mysteries that have been baffling hair loss boffins for years. These include why the same shape (or pattern) of hair loss will always develop in men with severe baldness. When baldness develops at both the front and crown of the head, eventually, just a small horseshoe shaped area of hair growing at the back and sides will remain. Skull expansion explains why this happens, something the current theory for hair loss cannot do.
Another mystery involves the male hormone dihydrotestosterone (DHT). Male pattern baldness has been linked to DHT, but this hormone also causes body and facial hair to grow at puberty. Skull expansion explains how DHT is connected to both hair loss and hair growth.
If this new theory is confirmed, it could lead to a total redirection of genetic research, affect future treatment methods and might eventually lead to a baldness cure.
To download a free illustrated ebook that explains exactly how skull expansion causes hair loss, visit: hairgrowthsos.com/what-causes-alopecia.html
HairGrowthSOS.com is an internet-based company which provides extensive information about various types of hair loss. It focuses on androgenetic alopecia, and aims to inform as many people as possible about skull expansion through the distribution of a free ebook. Paul Taylor suffered hair loss for several years before realizing the true underlying cause. He then developed natural techniques which allowed him to save his hair. He also promotes an ebook which explains how these techniques work.
Contact:
Paul Taylor
paultaylor (at) hairgrowthsos (dot) com
00 44 7821419834 Mon-Fri 11am-4pm GMT (Greenwich Mean Time).
###