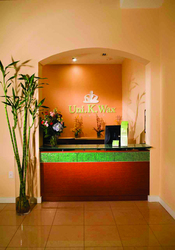 San Diego, CA (PRWEB) June 10, 2009
One of the newest and best waxing experiences, Uni.K.Wax Center is located at 8915 Towne Centre Dr. Suite 118 in San Diego, California. Offering the cleanest, greenest and possibly fastest waxing experience at affordable prices, Uni.K.Wax Center of San Diego is the first to create a green "waxing only" center experience for men and women on the west coast. Represented by Madeline Johnson Marketing & Public Relations, Uni.K.Wax Centers offer unique and innovative hair removal services and products that originated in the bikini capital of the world, Miami (South Beach), Florida in 1993.
Now with fans like Beyonce and Cameron Diaz and over 20 booming locations from coast-to-coast, Uni.K.Wax Centers are growing rapidly by word-of-mouth as more and more friends recommend these body and facial waxing specialists with locations recently opened and opening in cities coast-to-coast.
Uni.K.Wax Centers are devoted to the art of practically painless, safe hair removal in a clean and comfortable environment. Offering both male and female clients a greener waxing experience in facial and full body waxing, Uni.K.Wax Centers use an innovative natural, herbal wax that completely removes hair without wasteful and painful paper strips.
Unlike "hard waxes" that break on the skin, Uni.K.Wax always stays soft on the skin and has a proprietary elasticity that allows the technician the ability to remove hair thoroughly without the pain of "pulling" the skin with paper strips. Uni.K.Wax is created from safe, natural ingredients including pine sap and beeswax and has an aloe vera base that nourishes the skin while gently removing hair.
Removing hair in the most gentle and fastest way possible, Uni.K.Wax technicians use a special spatula on larger areas of the face and body, that never touches the skin, ensuring the cleanest, most hygienic waxing experience one can receive.
Using just enough wax for each client, each Uni.K.Wax Center client is waxed with their very own personalized warming canister of wax that is prepared on site in the Uni.K.Wax laboratory. Unused wax is disposed of immediately after each service to ensure a standard of hygiene found in no other waxing spa or salon.
Offering professional service to hundreds of clients daily, Uni.K.Wax Centers have a developed a rigorous 10 day training program that ensures each client receives the best in waxing services from an educated hair removal licensed specialist.
Uni.K.Wax Centers are also affordable and offer a detailed wax menu for both men and women. Waxing everything but the head, Uni.K.Wax prices range from $8.00 for upper lip to full Brazilian Bikini for $25.00 for women.
Additional services include Shapes for men and women and Celebrity Brows starting at $25.00 with take home stencil and cosmetic kits.
Special packages for her include full legs, bikini line and under arms for $63.00 and back, shoulders, chest and stomach for him for $93.00.
Those wishing to book an appointment can do so by calling today (858) 455-5520. Open Monday through Saturday from 10 am to 7 pm. Closed on Sundays. Uni.K.Wax Centers of San Diego have extended summer hours from 9am to 8pm from Memorial Day to Labor Day. For more information about Uni.K.Wax Centers visit http://sandiego.unikwax.com/. Members of the media call Madeline Johnson at 212.228.3640.
###