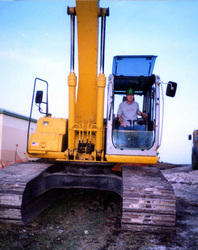 Orange Park, FL (PRWEB) January 8, 2009
Heavy equipment operators expect to have their pick of jobs in 2009, putting heavy equipment training programs in high demand.
According to the National Heavy Equipment Operators School, job opportunities for construction equipment operators are expected to be good through 2012 due to the shortage of adequate training programs. National Heavy Equipment Operators School offers an accredited heavy equipment training program, giving those who complete the training the opportunity for a career as a heavy equipment operator.
The National Heavy Equipment Training program is offered in two phases. The first phase is the distance learning portion. You will complete these lessons at your own pace at home, allowing you to keep your current job while you finish your studies. The second phase of the heavy equipment training is called the resident training portion. This is when you come to National for a month of hands-on heavy equipment training. Students are required to complete 201 hours of hands-on heavy equipment operator training in order to graduate.
According to the U.S. Department of Labor, Construction equipment operators held about 416,000 jobs in 2002. Jobs were found in every section of the country and were distributed among various types of operators. About three out of five construction equipment operators worked in the construction industry. Many Heavy Equipment Operators worked in heavy construction, building highways, bridges, or railroads. About one out of five of all heavy equipment operators worked in state and local government. Others --mostly grader, bulldozer, and scraper operators -- worked in mining. Some also worked in manufacturing and for utility companies.
Financial assistance is available to those who qualify. To find out more about National's Heavy Equipment School operator training program or the nationally accredited heavy equipment operator school contact National Training Inc. toll free at 1-800-488-7364 or visit the official website at http://www.earthmoverschool.com. Also, the "Contact Us" page on the website provides further email and mail contact information.
About National Heavy Equipment Operators School:
National Training, Inc. is Nationally Accredited by the Accrediting Commission of the Distance Education and Training Council (DETC), Washington, D.C.
The DETC is recognized as a "Nationally Recognized Accrediting Agency" by the U.S. Department of Education.
NTI is fully licensed by the State of Florida, Commission for Independent Education. NTI is also licensed by the Department of Highway Safety and Motor Vehicles. We train eligible applicants under the Workforce Investment Act (WIA). In addition, NTI is authorized to train eligible Vocational Rehabilitation Participants.
Contact Information:
David Rose
National Training
http://www.earthmoverschool.com/
1-800-488-7364
###