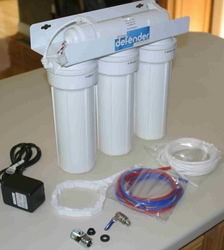 I'm excited about these trademarks because the products themselves are unique and among the most effective of all home water purification systems.
Brookside, UT (PRWEB) July 16, 2009
Sweetwater, LLC announces the successful trademark registrations of its two unique home water purification systems, the Urban Defender® and the Kitchen Defender®.
Sweetwater's Urban Defender whole house water purification system is used by hundreds of customers to remove chlorine, chloramine, and their carcinogenic byproducts, along with herbicides and pesticides and other volatile organic compounds. The Urban Defender can be configured with either granular activated carbon for chlorine or the more highly reactive catalytic carbon for chloramine removal.
Sweetwater's Kitchen Defender is a unique under sink water filter and water purifier that is used by hundreds of customers to provide healthy drinking water where water quality conditions allow them to retain the natural minerals in water while removing harmful chemical compounds. The Kitchen Defender can be custom tailored to solve a number of water contamination problems. It is often used by people to remove chlorine and chloramine, their carcinogenic byproducts, herbicides and pesticides, as well as removing or reducing the arsenic and fluoride present in city water.
Trademark registration protects these marks from infringement by other water treatment manufacturers or dealers. Certificates of registration from the United States Patent and Trademark Office were received today.
Ecologist and owner of Sweetwater, LLC, James P. McMahon said: "I'm excited about these trademarks because the products themselves are unique and among the most effective of all home water purification systems."
The Kitchen Defender is used to purify rainwater by numerous clients throughout the United States, Canada, and the Caribbean.
David H. Levine, M.D. in Columbus, GA, said: "We are so pleased with our Urban Defender. Our water tastes and smells great with no chlorine odor in the shower. In fact, we recently, had to disconnect it overnight, and my wife asked me why the water tasted so awful."
Levine continued: "It is definitely one of the best purchases we have made. Thank you for your assistance with the unit and with the installation."
Rainwater needs to be purified because it contains herbicides and pesticides along with mercury from coal plants. The Kitchen Defender effectively removes these contaminants. The Kitchen Defender is also used to purify surface water such as streams, creeks, or lakes where these are used as a drinking water source.
The Kitchen Defender comes in various configurations from the typical three stage model for public water to the four stage system with ultraviolet light for surface and rainwater.
Dr. Ilan Bohm, Director Office of Integrative Medicine in New York, NY, said: "We provide a detox program in our office and after investigating many water filter systems that would comply with the standards we have provided for our patients - yours: the Kitchen Defender has lived up to all its expectations and our patients have all noticed the pleasant difference in our water."
Both home water purification systems have been in use since 2005. Commercial versions of these two systems are also available and currently used in restaurants.
McMahon, the inventor of the revolutionary products, said: "Having the systems trademark protected allows me to be comfortable knowing that my brand is secure. As a small entrepreneur this is not something I'd given a lot of thought to. My focus has always been on making the best possible water purification systems."
About Sweetwater, LLC
Sweetwater, LLC specializes in providing home water purification systems for people throughout the country interested in health, wellness, and longevity. Many of Sweetwater's customers are natural health practitioners and their patients. Men and women interested in counteracting the effects of decades of consumption turn to Sweetwater, LLC for healthy drinking water. For more information, visit http://www.cleanairpurewater.com .
###