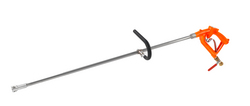 Chicopee, MA (PRWEB) October 28, 2009
Guardair Corporation announced today the addition of two new sizes to its Hydroforce Power Wash Gun family. Complimenting the original model featuring a 3/4'' compressed air inlet for use with 3/4'' ID air lines, Guardair is now offering 1/2'' and 3/8'' compressed air inlet versions. Consequently end-users with applications served by 1/2'' and 3/8'' ID air lines can utilize the superior cleaning power provided by the HydroForce. Combining the forces of compressed air and water, the HydroForce generates a turbulent air/water jet stream perfect for heavy-duty cleaning.
Designed to operate on compressed air as supplied by an in-plant, or a 185 cfm tow-behind compressor, and municipal utility water supplied by a standard garden hose, the HydroForce requires no external electric or gasoline powered pressure unit or power package. Both hot and cold water capable, the HydroForce has no duty cycle limitations. Lightweight and portable, the HydroForce features one trigger operation, a 48'' stainless steel extension, adjustable auxiliary handle, and a water shutoff valve for optional use of compressed air only for drying.
Producing up to 14 pounds of cleaning power, the rugged HydroForce is the ideal tool for heavy-duty industrial and construction cleaning applications. The HydroForce fully meets or exceeds all applicable OSHA standards.
For over half a century, Guardair Corporation has been the leading US manufacturer of safety air guns, syphon spray guns, pneumatic vacuums, and accessories for the industrial MRO (Maintenance, Repair, and Operations) marketplace. Sold through a world-wide network of over 2,000 industrial and specialty distributors, all Guardair products incorporate the latest in safety features, pneumatic technology, and ergonomic design.
For more information visit the Guardair website at http://www.guardaircorp.com.
###