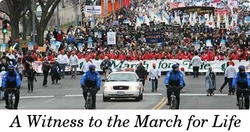 Life is the great civil rights issue of our day
Washington, DC (PRWEB) January 29, 2009
A record 300,000 people waved to the camera last week as they marched down Constitution Avenue to the Supreme Court at the 36th annual March for Life in Washington DC.
The March for Life will this year be memorialized in a high-definition documentary feature called Thine Eyes: A Witness to the March for Life. The film is slated for release in March, 2009. It is the first serious documentary about the January 22nd event, which marks the Supreme Court's 1973 Roe vs. Wade decision to override state abortion laws and mourns the more than 50 million unborn Americans who have died as a result.
Painfully few in the major media paid any real attention to the March for Life this year despite the event's massive size and obvious relevance. The Obama administration's promise to expand the abortion franchise has energized the pro-life movement nationwide and prompted the record turnout.
Actress Jennifer O'Neill, perhaps best known for The Summer of 42, was on location as narrator of the documentary, which aims to capture the spirit of the world's largest and most consistent pro-life event. O'Neill has for years been a strong advocate of the pro-life cause, offering her own personal testimony of abortion regret in books, speeches and videos.
"Life is the great civil rights issue of our day," says Thine Eyes producer, Jack Cashill. "The history of America is a history of expanding the family of those whose worth we take seriously. The Obama inauguration offers us your classic 'teachable moment.' Thine Eyes will make the lesson obvious and even entertaining."
"There is something very catchy about the March for Life which inspires people to go home and do more than they otherwise might have for the cause of the unborn," executive producer, Steve Sanborn said. "Our goal is to capture that inspiration and message and share it with the world."
Supporters are asked to visit http://www.thineeyes.org for more information. Tax-deductible online or mail-in donations for the project are being accepted and pre-ordering of the DVD is also available on the website.
Contact Information:
Thine Eyes: A Witness to the March for Life
http://www.thineeyes.org
###