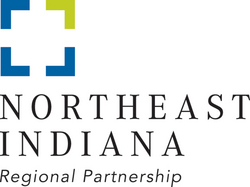 We saw a need to connect with our clients—site selection consultant and company executives—on another level
Fort Wayne, Ind. (Vocus) September 18, 2009
The Northeast Indiana Regional Partnership (NEIRP) has firmly grounded itself on the cutting edge of economic development with the announcement of northeast Indiana's premier economic development social marketing campaign. NEIRP updates and information can now be found on the Northeast Indiana Pulse Blog, Facebook, Twitter, LinkedIn and photo-sharing network Flickr.
In recent months, the aggressive efforts of the Partnership to market the region and attract new investment opportunities have been enhanced and supplemented by the addition of social marketing campaigns. Facebook members can become fans of northeast Indiana, Tweeters can follow northeast Indiana's breaking news if they follow @NortheastIN, photos from all of northeast Indiana's 10 counties can be accessed on Flickr, and area economic development event updates are posted on NEIRP's LinkedIn group page. The blog, Northeast Indiana Pulse, also provides a medium for reflection and commentary on northeast Indiana and economic development activity by NEIRP staff and regional partners.
"We saw a need to connect with our clients—site selection consultant and company executives—on another level," said Erica McCutchan, Marketing Manager for NEIRP. "Social media networks like LinkedIn and Twitter allow NEIRP to broaden the reach of our brand and further establish relationships. In the economic development world, these avenues of communication are fresh and innovative which allows the northeast Indiana brand to stand out from other regions."
In today's reality of online accessibility and the social networking frenzy, reports have shown online communities are increasingly drawing executive attention, increasing the demand for northeast Indiana's brand to be visible and accessible online. With full integration of social media into NEIRP's online website and presence, the Regional Partnership's response to this demand has proven to be one of the first of its kind in the state and nation. Only a handful of other economic development organizations throughout the country have been found taking advantage of the medium.
Visit chooseNEindiana.com for quick access to NEIRP's social networking accounts as well as up to date information on regional business activity and economic development data and subscribe to northeast Indiana's premier monthly economic development newsletter, Northeast Indiana LEADS.
About the Northeast Indiana Regional Partnership: Created in 2006, the Northeast Indiana Regional Partnership's mission is to market the 10-county region and team with local economic development organizations (LEDOs) to bring new jobs and commercial investment to the area. The Partnership concluded a successful Investment campaign in October of 2006 targeting an initial operating period of five years. The RP's global marketing efforts will be on behalf of LEDO's in Adams, Allen, DeKalb, Huntington, LaGrange, Noble, Steuben, Wabash, Wells and Whitley counties.
# # #