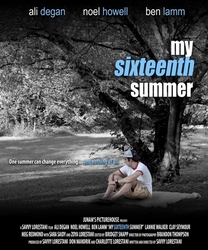 Atlanta, GA and Los Angeles, CA (PRWEB) March 17, 2009
My Sixteenth Summer, a $1,000 feature filmed in Atlanta, Georgia, has been selected to screen at the 11th Annual Method Fest Independent Film Festival on March 29 in Los Angeles, California. First-time director Savvy Lorestani makes his film debut among well-established independent filmmakers and seasoned industry professionals.
My Sixteenth Summer is a coming-of-age film about the ups and downs of being 16-years-old in suburbia. Centering around Samir (Ali Degan), an Iranian-American teenager, he struggles with all the pressures, highlights and disappointments of adolescence.
Method Fest is known for showcasing true discoveries alongside work by well-known directors, like The Visitor (2008), Waitress (2007). Named after the Method form of acting, this festival celebrates character and story-driven films featuring strong acting performances. This year's festival takes place March 26 - April 2, 2009.
"A triumph of substance…Savvy Lorestani's intimate and no doubt personal My Sixteenth Summer feels very much like the work of a young master--parts early Linklater and Lucas…A small film that will hopefully launch a big career, My Sixteenth Summer is a movie worth remembering." -- Jonathan Hickman, EINSIDERS.COM
"Subtly funny and alternately heartwarming and heartbreaking, My Sixteenth Summer is a classic coming-of-age tale. First-time director Lorestani has a knack for understated realism, and imbuing potentially mundane, everyday moments with a quiet, honest beauty and irresistible charm." -- Steve LaBate, Associate Editor, Paste Magazine
About My Sixteenth Summer:
Samir's summer is looking pretty bleak. His spoiled sister is back from med school, his fresh off the boat parents get more foreign every day and it looks like he's about to lose the girl of his dreams…to his best friend. In response, Samir ditches his high school friends and starts hanging out with a couple of twenty-somethings. But as Samir exchanges his adolescent woes for a look at the quarter-life, he starts to see that the other side of twenty isn't all its cracked up to be…And that maybe being sixteen isn't so bad.
###