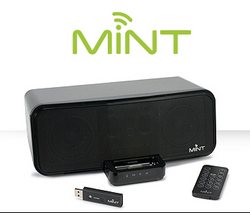 More and more people use their computers especially laptops, for their primary source of music, movies, online videos, and games. But look at the built-in laptop speakers! They are far too inferior for these huge tasks
Santa Ana, CA (PRWEB) October 7, 2009
Digital Signature introduced its second generation wireless computer speaker system, Mint Studio, after a series of their first generation products: Mint 130, 220, and 300 since 2007.
The Mint Studio is a good complement for laptop users who use their computers for most of their music listening, movie or video watching, or playing games. Set up is easy. No software or Wi-Fi connection is needed. Just plug the included Mint USB transmitter in, and play anything from the computer to enjoy powerful audio wirelessly.
To overcome long time skepticism on wireless audio, Mint Studio made significant progress on two of the most critical issues for any wireless audio system, wireless interference and operation range. First, Mint Studio decreased wireless interference significantly by hoping between two different channels. Second, it doubled operation range by amplifying its RF signal. The Mint 2G wireless solution extends its in house operating range to 100 feet which can cover a 2500 sq ft house, the average size of an American home.
"More and more people use their computers especially laptops, for their primary source of music, movies, online videos, and games. But look at the built-in laptop speakers! They are far too inferior for these huge tasks" says Jay Jeon, VP of product marketing of Digital Signature. "Mint will unleash audio from the laptop giving freedom and audio nirvana to laptop users with an affordable price from years of experience and volume production"
Mint Studio provides rich and clear sound with a Texas Instrument amplifier and two three inch advanced alloy (magnesium/aluminum) cone full range transducers. It can generate powerful sound as loud as 103 decibel at 1 meter, which is equivalent to a Jack Hammer at 1 meter, without distortion.
Although Mint Studio comes with one Mint speaker, the included Studio USB transmitter can stream audio up to three Mint speakers simultaneously. Users can simply add Mint Studio speakers for multi-room audio. Mint Studio is equipped with an iPod dock to play both iPods and iPhones while charging. It also has an auxiliary input for MP3 players and game consoles.
The Mint Studio is now available for $129, which is one third the price of Sony's ALTUS S-AIR Wireless Speakers and Bose's Soundlink. Additional Mint wireless speakers with a remote is just $99. The Mint Studio is available at Amazon and MintWirelessAudio.com.
ABOUT Digital Signature
Since it introduced Mint 300, the world's first digital wireless computer speaker system, in 2007, Digital Signature has innovated its technology by introducing Mint 220, Mint 130, and Mint Studio in 2009.
Digital Signature's main focus is on providing valuable wireless audio solutions to customers by combining:

user's needs to connect their computer, as the central audio source, to speakers seamlessly
engineering to produce great sound systems with easy set up, least interference and longer wireless range
proper profit seeking operation philosophy, not the maximum
# # #