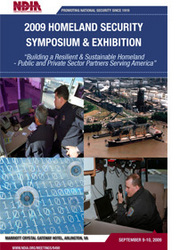 Building a Resilient & Sustainable Homeland - Public and Private Sector Partners Serving America
Arlington, VA (Vocus) September 1, 2009
The National Defense Industrial Association's Homeland Security Division will hold its fourth annual Homeland Security Symposium & Exhibition during National Preparedness Month on September 9-10, 2009 at the Crystal Gateway Marriott in Arlington, VA. The symposium will assemble leaders from the new administration (DHS, the Pentagon, other Executive Branch members), state and local governments, the private sector, leading opinion leaders, and experts to address some of the most pressing issues facing today's homeland.
This year's symposium theme is, "Building a Resilient & Sustainable Homeland - Public and Private Sector Partners Serving America" and will focus on the post-transition challenges and the strategies needed to bring public and private sectors together to address them. The program will feature updates on the Quadrennial Homeland Security Review; DHS and DOD programs and policies; Congressional actions; homeland technology needs/investments; procurement and grant opportunities as well as insights on cyber security, critical infrastructure investment, border and cargo security, National Guard programs and more. Leaders in industry as well as homeland security/defense policies, programs, procurements, and acquisitions leaders will address attendees on their priorities and will also be available to answer questions.
This year's keynote speakers include:

The Honorable Henry Cuellar (D-TX), Chairman of the Emergency Communications, Preparedness and Response Subcommittee for the US House of Representatives
Mr. David Heyman, Assistant Secretary for Policy, U.S. Department of Homeland Security
MG Michael H. Sumrall, USA, Assistant to the Chairman, Joint Chiefs of Staff for National Guard Matters
For full details on the Symposium including registration information and an up to date listing of the distinguished public and private sector leaders on the agenda go to http://www.ndia.org/meetings/9490.
About NDIA:
The National Defense Industrial Association (NDIA) is America's leading defense industry association promoting national security through communication and knowledge-exchange between industry and the government. NDIA has over 1,500 corporate members and more than 70,000 individual members from the defense/security industry, the government and military. NDIA supports its mission through technical symposia, expositions, government advocacy, regional chapters, technical divisions, affiliate associations and its award winning magazine, National DEFENSE.
###