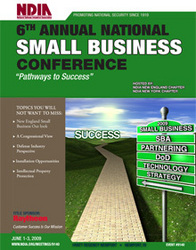 Newport, RI (Vocus) April 30, 2009
U.S. Senator Jack Reed (D-RI) will open NDIA's National Small Business Conference, as the Keynote Luncheon Speaker on June 1, 2009 at the Hyatt Regency Newport in Newport, RI.
The 6th Annual National Small Business Conference will provide a forum to educate, guide, and assist businesses, especially small businesses, in working with the federal government, primarily the Department of Defense.
"Given today's environment, it is no longer good enough for Small Businesses to secure single pieces of business. We have organized a conference that will guide and assist businesses in understanding the business climate within the DoD arena. Attendees will be able to network with small business liaison officers as well as government officers and hear from directors of contracting at installations in the northeast area and small business advocates," said Jay Lustig, Conference Chairperson for the National Small Business Conference and Director of Business Development for Scientific Solutions, Inc.
This NDIA conference will examine several opportunities and issues that both large and small businesses face with when working with other businesses as well as the government, including:

Acquisition and contracting opportunities
What a prime contractor values in their integrated supply chain
How to grow by acquisition
AMCOM Competition Management Office's mission, advocate shopping list, and Source Approval Request (SAR)
How to expand the participation of service disabled veterans in the operation of small businesses
Legal aspects of teaming agreements
Principles of Federal Acquisition Regulation (FAR) compliant job cost accounting system
Benefits of Opportunity Identification & Qualification (OI&Q)
How to work with the government when dealing with SBIR/STTR, Phase III actions, FAR based contracting, Consortiums, and Grants/Agreements.
The Conference will conclude with a message on how the stimulus package will impact the northeast area.
About NDIA:
The National Defense Industrial Association (NDIA) is America's leading defense industry association promoting national security through communication and knowledge-exchange between industry and the government. The Small Business Division of NDIA focuses specifically on issues impacting this important industry segment. The division consists of corporate representatives interested in enhancing small business participation in the federal market place.
###