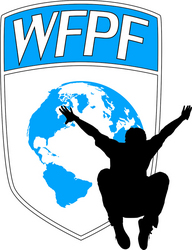 New York, NY (PRWEB) August 31, 2009

The World Freerunning & Parkour Federation's best athletes (represented by MJMPR) and Equinox fitness trainers will take New Yorkers to new fitness heights with two WFPF Parkour workshops at Equinox Fitness club at 10 Columbus Circle on Saturday, Sept 12, 2009 from 1:00- 3:00pm and on Wednesday, Sept 30, 2009 from 5:30-7:30 pm.
WFPF Parkour workshops include an action packed hour of efficient, creative, safe and powerful training as New Yorkers learn to jump, flip, vault and roll under, over, and through any obstacle in their way.
WFPF Parkour takes military-style training to a whole new level at Equinox because this new class is as much about training the spirit as it is about conditioning the body.
Parkour's origins derive from a training program for French Special Forces known as "Parcours du combattant" but the discipline has evolved from the battlefield.
Taking WFPF Parkour classes at Equinox, participants interact with obstacles, such as gymnastics equipment, urban architecture or the natural environment, becoming more comfortable with his/her body, liberating his/her mind, and ultimately mastering their environment.
From a physical perspective WFPF Parkour properly builds proportionately strong bodies and core muscles in an exciting, unique and fun new way that combines cardio, strength and conscious core fitness.

The change of movements involved in WFPF Parkour training makes one work harder and burns more calories and includes a fusion of flips, rolls, vaults and turns that keeps everyone on their toes.
The novelty of the WFPF Parkour program is great for keeping both muscles and minds engaged.
Because the exercises are infinitely combinable, each workout is new.
As with interval training there is increased calorie expenditure and after burn, so calories are burned after the exercise is over.
With WFPF Parkour, people at all fitness levels can do it with little or no equipment making the entire world a playground.
As with all good classes, when people exercise in a group they work harder than they do alone, as they feed off the collective energy.
The World Freerunning & Parkour Federation is the first and only international online social networking community dedicated to the safe and respectful advancement of the Parkour & Freerunning Movement throughout the world.
WFPF Parkour Athletes; Travis Wong, Pip Anderson, Ben Jenkins, Ryan Doyle, Michael Turner, Tim "Livewire" Shieff, and Phil Doyle will lead the WFPF Parkour Workshops at Equinox Fitness and will help athletes of all levels:
Develop functional base fitness and the physical attributes required for Parkour.
Focus on movement training with techniques including, but not limited to; the cat leap, vaults, precision jumps, balance techniques, wall-runs, drop jumps, rolling and more.
Develop their mental conditioning, encouraging them to confront fear and obstacles in all areas of their lives.
Improve creative vision as they see the world and spatial dynamics through a liberated mind.
Learn to practice in safe and exciting ways in an urban workout as they participate in outdoor Parkour Jams.
About Equinox: Equinox Fitness Clubs operates 48 upscale, full-service facilities in New York, Chicago, Los Angeles, San Francisco, Florida, Dallas, Boston and DC.
The company offers an integrated selection of Equinox-branded programs, services and products, including strength and cardio training, group fitness classes, personal training, spa services and products, apparel and food/juice bars.
Since its inception in 1991, Equinox has developed a lifestyle brand that represents service, value, quality, expertise, innovation, attention to detail, market leadership and results.
The World Freerunning & Parkour Federation was founded by Victor Bevine and David Thompson along with Emmy award winning producer Francis Lyons. Creative and production partners include Onelouder and Transition Productions. One Louder is headed by Emmy Award winning Executive Producer, Bob Kusbit, who executive produced pop culture TV shows such as MTV's TRL, MADE, Boiling Points, and Scarred. Transition Productions, one of the world's premiere action sports production companies is run by Kemp Curley and Kevin Harrison, who have Executive Produced dozens of televised events for both Winter and Summer X Games, the Dew action sports tour, ESPN coverage of world championship surfing, and Major League Soccer.
With over 80 years of combined experience in action sports coverage, entertainment, and youth development, the WFPF Creative Team have brought together 20 of the world's top Parkour athletes and trainers and created an online community devoted to introducing Parkour and the philosophy behind it to the American mainstream while promoting the safe and respectful advancement of the Parkour movement throughout the world.
Eight of the WFPF athletes will appear on Oct. 22nd on MTV's ULTIMATE PARKOUR CHALLENGE, and will be making appearances around the U.S. on a planned national tour.
These same stars will be teaching Parkour workshops at Equinox Fitness while they continue to work in tandem with recognized charities such as Athletes for Hope and the Fresh Air Fund. For more information, visit http://www.wfpf.com.
Media Contact: Madeline Johnson Marketing & Public Relations 212.228.3640
###