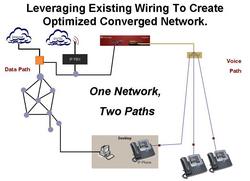 We are converting partially the digital phones to Cisco IP phones. And I must say it is really a plug and play experience
Mississauga, Ontario (PRWEB) October 1, 2009
Comstor, Singapore, a member of Westcon Group of companies was looking to gain the many advantages of Unified Communications but there were some significant barriers that they could not overcome. They currently use wireless for data network and they needed to decide between revamping their wireless network to support voice/data and relaying data cables which both would have had negative consequences. Comstor's fast paced business would have been disrupted and the company would have incurred high cost and down time due to renovation and re-configuring their network setup. Comstor delayed their move to IP Telephony given these barriers until they learned about the Phybridge UniPhyer. Read the full case study.
Comstor Singapore was made aware of the Phybridge UniPhyer solution through Westcon Canada. Westcon, focused on bringing innovative technologies to their partners that can better serve customers, were one of the first to recognize the value of the Phybridge UniPhyer. Comstor Singapore is optimizing their Unified Communication experience while eliminating all the barriers by using the Phybridge UniPhyer
Deployment was quick and easy with no network or business disruptions. "We are converting partially the digital phones to Cisco IP phones. And I must say it is really a plug and play experience" said Michael Long, Solution Sales Manager for Comstor.
The Phybridge UniPhyer is an enabling technology that optimizes customers' unified Communications experience by eliminating many of the barriers associated with IP telephony deployment in an office. The Phybridge UniPhyer lleverages the existing telephony infrastructure to create a completely independent power over Ethernet (PoE), Quality of Service enabled parallel network for voice with reach of over 1,200 ft. Customers have the ideal centrally converted network topology with two physical paths, one for data, and one for voice. Deployment is lower cost, quick, easy, non disruptive with quality of service. The UniPhyer works with most IP telephony gear.
"Today, many of the barriers and challenges to deploying IP telephony and Unified Communications is the unknowns around network readiness and the complexity of voice and data sharing the same physical path on a network", says Steven Fair, SVP of Phybridge. "As seen with Comstor, the Phybridge UniPhyer eliminates those barriers enabling customers to proceed confidently with unified communications deployment."
In today's market environment customers want to eliminate as many risks as possible when proceeding with any strategic initiative. Traditional deployment of voice being converged onto data networks results in many risks for both customers and providers including: new network gear, new cable requirements, network assessments and configurations, all before trialing the solution. For many companies these costs and risks are too great despite the many benefits of Unified Communications. The UniPhyer enables customers to proceed confidently with their Unified Communications deployment with exact pricing for an optimized network with most of their budget being allocated to Unified Communications applications that drive the return on investment and not the stresses of getting the network right.
About ComStor, Westcon
Westcon Group ("Westcon") has been around for nearly 25 years and has grown to become the world's leading specialty distributor of advanced network technology solutions with business practices: Westcon, Comstor, or Voda One.
Westcon specializes in the complex markets of networking, convergence and voice, defense and security, and mobility and wireless. Westcon gives resellers direct access to the products, solutions and services that turn existing and prospective end-user customers into satisfied business partners and, ultimately, profitable annuity streams of services and renewals.
About Phybridge
Phybridge Inc. is a provider of risk-free IP telephony infrastructure. The company brings practical innovations to market that provide organizations with an easier way to deploy and manage their communications. The company's UniPhyer solution turns any IP PBX Telephony deployment into a simple risk-free, plug-and-play installation with significantly lower costs than traditional implementations. For more information on Phybridge, visit http://www.phybridge.com
###