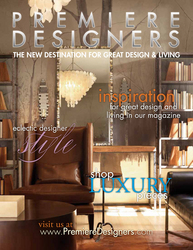 "Premiere Designers new digital shelter and lifestyle magazine is eco-friendly, graphically beautiful, easy to read and is uniquely designed for our savvy, affluent readers."
Saint Helena, CA (PRWEB) December 12, 2009
PremiereDesigners.com has a new digital, luxury home, shelter & lifestyle magazine in the works. The new magazine is to debut late January of 2010 and will resemble a print magazine with features on affluent interior design, Designers, lifestyle and destinations. Since the new Premiere Designers Magazine is digital, it uses no paper and is eco-friendly. Luxury brands and advertisers can purchase interactive ads in the new online magazine. Subscribers can request a free trial to test out the virtues of the new Premiere Designers Magazine.
The new Premiere Designers digital magazine will debut in late January 2010. The new Premiere Designers Magazine has great editorial and images, and interactive, luxury brand advertisements. It is created in a format that is similar to a print magazine but eco-friendly since it uses no paper. The focus is luxury interior design and living in style in the United States and fabulous international locations.
Premiere Designers Magazine subscribers can see feature articles in a comfortable, familiar magazine format, but can take their magazines with them everywhere, email pages to friends and even print out specific pages for reference. Premiere Designers new, full digital magazine is under development and will be published on the Premiere Designers website in late January of 2010.
The focus of the magazine is great design and living. Every issue covers interior design, Designers, the newest trends and ideas in design, great antiques, architecture, wine & spirits, cuisine, destination travel, fabulous eco living & style and even an editorial on luxury products of interest to men. All covered with an eye toward great living and great design.
The new quarterly magazine is subscription based with a price of $36 per year for 4-6 issues. PremiereDesigners.com visitors can request a free 60 day trial subscription which gives trial subscribers total access during the trial period.
Be one of the first to get Premiere Designers Magazine. Contact us at premieredesigners(at)gmail(dot)com to get on the Reserve List of paid subscribers or trial subscribers.
According to Founder, Ann Shogren, "The new magazine allows us to present even more luxury products and more editorial content that our guests are interested in. By using a magazine format, adding additional content is accomplished gracefully, without creating clutter on PremiereDesigners.com."
The interactive aspect of the ads makes the advertisements engaging for guests, because they can click and immediately get extra information. Ann says that the new magazine will also be "Graphically beautiful, clean in design and have high end appeal. We are focusing on great content, large, lush graphics and text that is legible without zooming." Not having to zoom, means the graphic design and beauty of the page remains intact as the reader moves through the magazine. A zoom feature will still be available to view small details.
PremiereDesigners.com is the New Destination for Great Design & Living. Premiere Designers has very quickly garnered the attention of affluent design enthusiasts around the globe since it's launch mid August of 2009. Site guests can easily peruse millions of dollars worth of new luxury home furnishings and real, authentic antiques from top Designer brands, Dealers and Designer's own curated collections. The site is unique in that guests can even see the retail prices on the site, contact Designers to make purchases and line up top talent for their own design work.
PremiereDesigners.com presents great design and ideas the affluent lifestyle and design enthusiast wants to see. Design work and products are presented on a website that is free from the chaos and clutter found on may other affluent and luxury lifestyle sites.
Due to the emphasis on a clean site and easy navigation, the new Premiere Designers digital shelter & lifestyle magazine is the perfect way to bring in more content and allow advertisers with interesting luxury products an opportunity to showcase to the affluent market. Advertisers will be accepted if they have compelling display ads and a focus that corresponds with Premiere Designers Magazine.
Anticipated display ads cover the entire luxury living market and include such products as: home furnishings, Interior Designers, landscaping, lighting, accessories, furniture, lighting, fabrics, hardware, fixtures, real estate, luxury builders, travel, hotels, spas, destinations, jewelry, yachts, vehicles, security, staffing, charities, events, wine, spirits, cuisine, equestrian facilities and horses, fine art, recreational vehicles, fashion, private jets, eyewear, antiques, watches, sportswear and sports equipment, health and beauty, wine storage, and luxury collectibles.
Introductory advertising rates are available. Strategic Partnership ideas are welcome. Media kit, rate card and advertising queries go to: advertising.pd(at)gmail(dot)com
Some territories are still available for Ad Rep opportunities. Contact us at premieredesigners(at)gmail(dot)com attn: David (707)968-9918
Premiere Designers hires freelance Writers and also accepts product and design submission queries.
Send submissions to: submissions(dot)pd(at)gmail(dot)com
Senior Editor, Design & Lifestyle Editor - Ann Shogren
Men's Lifestyle Editor, Wine & Spirits Editor - David Shogren
Book Editor - Marilyn Gill
Cuisine Editor - Marcia Roman
Eco Editor - Jude Steele
Premiere Designers is the New Destination for Great Design and Living.
http://www.PremiereDesigners.com
# # #