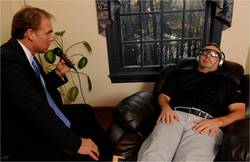 "The hardest part of smoking cessation is often scheduling that first appointment to get help. Once you are here, the PA Hypnosis Center provides you the help you need."
Pittsburgh, PA (PRWEB) November 19, 2009
For many people, the Great American Smokeout means a new beginning but West Virginian Joe Balog sees it as a great ending. To Joe, every November is a milestone anniversary. This year he's celebrating two years of smoke free living. In November 2007, Joe turned to Dan Vitchoff, Board Certified Hypnotherapist and President of PA Hypnosis Center in Pittsburgh, in what felt like a 'last straw' to try to quit smoking forever.
As a 17-year smoker, Joe felt like he had tried everything to break the smoking habit. He had even tried other types of hypnosis, going to a group hypnosis session in the hope it would help him quit smoking, but nothing had worked. Then Joe's mother, Bernice, offered the suggestion that he try the PA Hypnosis Center and Dan Vitchoff's smoking cessation program. It wasn't that she knew anything about them, but their website http://www.pahypnosiscenter.com seemed of offer the promise of help. Bernice called and set up appointments for she and Joe to meet with Dan Vitchoff for a Free Consultation and Evaluation designed to show them more about reaching their goals through hypnosis.
One consultation was all it took to convince Joe and Bernice that PA Hypnosis Center was right for them. They were impressed with the relaxing atmosphere in the office and the professionalism of the staff. As Dan Vitchoff explains, "The hardest part of smoking cessation is often scheduling that first appointment to get help. Once you are here, the PA Hypnosis Center provides you the help you need."
Dan met with Joe and Bernice, learned what 'a day in the life' of each of them was like, listened carefully to their needs, and then asked the important question, "What do you want to accomplish with the help of the PA Hypnosis Center?" Joe's answer was two-part. He wanted to lose weight and quit smoking, but he decided to participate in a Hypnosis Smoking Cessation program first and then work on weight loss.
Joe's first hypnosis smoking cessation session allowed him to wrap his mind around the idea that he was going to live the rest of his life as a non-smoker; his second session was his Quit Day. On Joe's Quit Day, he left PA Hypnosis Center's office is Pittsburgh, PA as a non-smoker, free of cravings and desires and finally free from cigarettes!
Inspired by the fact that he had successfully quit smoking, Joe then decided to participate in a Weight Loss Program to improve his health and increase his energy. Twelve short months later, Joe Balog not only was a non-smoker; he had also lost 70 pounds.
Many smokers fear weight gain if they quit smoking, which makes Joe's accomplishment truly inspiring to others who hear it. With Dan Vitchoff and PA Hypnosis Center's help, Joe was able to turn his life around and improve his quality of life; he has more energy and his family is thrilled with his success.
Dan Vitchoff is one of the nation's leading Hypnotherapists and is President of PA Hypnosis Center. Dan explains, "Most people that come to our Pittsburgh hypnosis center want to quit, and know they need to quit, but fear they will fail again or gain weight in the process. PA Hypnosis Center helps them train their mind to feel confident, comfortable, and relaxed as non-smokers."
Vitchoff's associate, Catie Dolgos, CHt. Certified and Licensed Hypnotherapist says, "Every day, we have clients calling, emailing, or writing thank you notes, so excited that we helped them reach goals that had once seemed impossible to them." For more information on how you can lose weight or quit smoking with PA Hypnosis Center's Individualized Hypnosis Programs or to request an interview to discuss the Great American SmokeOut in Pittsburgh, PA, please call Catie Dolgos at 724-934-8446 or visit their website at http://www.pahypnosiscenter.com.
###