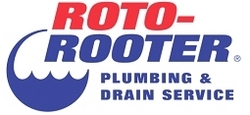 Cincinnati, OH (PRWEB) April 28, 2009
Roto-Rooter, North America's largest provider of plumbing and drain cleaning services, offers homeowners flood water damage prevention tips that can help save thousands of dollars in flood-related losses. Spring rains can accumulate quickly without absorbing into the ground. The resulting runoff can threaten homes and destroy possessions; especially items stored in basements. Roto-Rooter offers the following tips so property owners can protect themselves from flood-related plumbing problems:

Prevent blocked drains. Check yard drains, culverts, gutters and downspouts to be sure they are open and clear of debris so that water is channeled away from the home's foundation.
A sump pump is a home's best defense against basement flooding. Test the sump pump monthly by pouring a few buckets of water into the sump pit. The pump should quickly turn on, discharge the water, and then shut off. If it does not, contact a plumber for service. If the sump pump operates frequently, consider installing a battery back-up sump pump that will operate in the event of a power failure.
Test floor drains in garages, bathrooms, basements and patios by pouring a gallon of water into them. If they're not draining quickly, use a line snake to clear debris or call a plumber for service.
Inspect foundation and basement walls for cracks. Watermarks near cracks could be signs of recent leaks and future risk. Use concrete patch to repair cracks or consult an expert.
Paul Abrams, public relations manager for Roto-Rooter, states that there are additional low cost prevention steps property owners can take to protect against flood water damage, "Simple flood alarms cost less than $15. Place battery-operated flood alarms in basements near the sump pump and in other flood-prone areas, including the laundry room and next to the water heater, etc. The alarm will sound if water is present, allowing you time to act sooner," Mr. Abrams said. "Property owners can learn more by checking out Roto-Rooter's plumbing blog for timely flood damage prevention tips and plumbing repair information," Mr. Abrams stated.
In the event that a homeowner has flooded basement problems or other flood-related plumbing issues, Roto-Rooter offers 24/7 emergency services. Whether a property owner needs clogged drain repair, sewer drain service, or other plumbing repairs, Roto-Rooter is always ready to respond with over 600 local plumber locations in the U.S. and Canada.
About Roto-Rooter
Roto-Rooter was established in 1935 and today is the largest provider of plumbing and drain cleaning services in the United States and Canada. Roto-Rooter operates businesses in more than 115 company-owned territories and approximately 500 franchise territories, serving 90 percent of the U.S. population and 41% of the Canadian population. For more information about Roto-Rooter please visit http://www.rotorooter.com.
For more information please contact:
Paul Abrams
Roto-Rooter Public Relations
Roto-Rooter Group, Inc.
2500 Chemed Center
255 East Fifth Street
Cincinnati, Ohio 45202-4726
513-762-6434
http://www.rotorooter.com
###