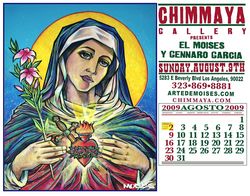 Los Angeles, CA (Vocus) July 21, 2009 –-
Chicano pop artist El Moises will attend the world premiere of an exhibit featuring his latest works at the ChimMaya Gallery on Sunday, August 9, 2009. The appearance will be the celebrity's first on the west coast, since his groundbreaking show in Santa Fe during the city's famed Spanish Market – the world's largest and most prestigious, juried event for Contemporary Spanish Art.
Anticipation of new works by the pop icon has reached a fever pitch, due to the overwhelming success of his crossover into mainstream collectors' lists in recent years. The artist's publicist states, "El Moises has created a new body of work inspired by the Chicano culture art seen on calendars and similar promotional items used in the mid-20th century. Collectors of the master's works will see the hallmarks of his vibrant style juxtaposed with classic images of the 'old-school' gas station calendars, among his well-known portraits depicting the urban Hispano experience."
On the heels of the recent announcement of a soon-to-be-released Signature line of urban apparel that is earning early comparisons to nouveau-fashion legend Ed Hardy™, El Moises has decided to return to the intimate environment of select, smaller venues to bring visibility to artists who are emerging and find themselves where he, himself, was many years ago.
"I look back and see where I was a few years ago, and I count my blessings to be able to pursue my passion. My heart is heavy for the emerging artist who is trying so hard to hold on during today's economic storm! That's why I am scheduling exhibitions in a few smaller galleries – I want to try to bring the Santa Fe scene to the underdog gallery, the galleries that really need community support," says the artist.
The exhibition will open to the public at 3:00 p.m. at ChimMaya Gallery: 5283 East Beverly Boulevard, Los Angeles. The artist has confirmed he will be signing a limited number of collectible materials and posters. Details about the private pre-show viewing and after hours social may be followed on Twitter.
Requests for press kits including hi-resolution images of artwork, artist interviews via telephone, and photo ops made me directed to ChimMaya Gallery via telephone: (323) 869-8881, or Ken Lingad at 1680PR, http://www.1680pr.com.
About El Moises:
From humble beginnings gathering grocery store flyers to use as a drawing paper, and colored flowers to extract and create colors to paint with, the artist known as El Moises has become the chief ambassador of his people's experience in the modern social fabric. Narrating history, culture, and the hallmarks of street life, El Moises' paintings and mixed media masterpieces speak with authenticity and resonate with intensity. A focal point of some of the world's most important private collections, his distinctive style is exhilarating – an alchemy of countless strokes of vibrant colors conjuring – if not resurrecting – elaborative images distorted and surreal, bordered in bold, dark outlines.
Contact:
Ken Lingad
1680PR
505-227-2580
http://www.1680PR.com
###