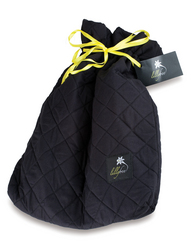 Washington, DC (Vocus) September 3, 2009
Kassie Rempel, the owner and founder of the popular catalog and online boutique, SimplySoles is sparing no expense to deliver designer shoes in an eco-friendly fashion with the inventive design of the ShoeShuttle and the BootBus – plush, quilted bags that provide smart solutions for eco-aware shoppers as a transport medium and travel case for shoes and boots.
The bags serve as a vehicle for transporting the shoes from the manufacturer to the SimplySoles warehouse and then to the customers' homes. In addition, the ShoeShuttle and BootBus also function as a travel case for women on the go. The cushioned interior protects the shoe and helps retain its original shape, a feat oftentimes difficult with overstuffed suitcases and bags.
"I am bringing a product to market that is 400 percent more expensive than the current shoe box model. To me, reducing waste and my company's impact on the environment is worth the added expense. When I reach out to my customers, they value the positive, personal experience they receive with SimplySoles. How the product is delivered is part of that experience. My customers care about style, and many also care about the environment, so the ShoeShuttle and BootBus only add more value to shopping with SimplySoles," says Rempel.
SimplySoles plans to ask all of its product partners to start shipping shoes straight from the manufacturer to the SimplySoles warehouse in the quilted bags in an effort to cut down on the amount of paper boxes used in the shoe business.
The bags are available for purchase at simplysoles.com ($20/ShoeShuttle and $30/BootBus) and come free with the purchase of any "lillybee" shoes or boots, the SimplySoles exclusive collection which Rempel designs.
SimplySoles differentiates itself not only by offering a boutique selection of the finest women's shoes, but also by providing excellent customer service and in its commitment to helping women in need through a generous shoe recycling program. In addition to free shipping on orders of $75 or more, every delivery is accompanied by a handwritten thank you note, exchanges are free, returns are free, prices are matched, and the company offers a generous 30-day return policy. Customers can also send in a pair of gently worn shoes to SimplySoles and these donations are sent to a local non-profit called Suited for Change, which helps women in need transition into the professional world. In turn, customers who make a donation receive a 10% discount on their next purchase from SimplySoles.
Frustrated by the poor selection of shoes offered for sale online and in fashion catalogs, Rempel turned her passion for shoes into a successful business and founded SimplySoles in 2004 with the hopes that other women would appreciate shopping for designer shoes from the comforts of home. The catalog is mailed nationwide and is available by visiting SimplySoles or calling 1-800-909-3679. Visitors can also register to receive the email newsletter giving them the inside scoop on private sales and more.
Kassie's Blog
Twitter
Facebook
###