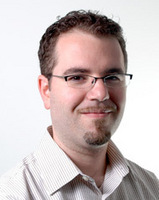 What do audiences expect of my product?
Reston, VA (PRWEB) February 12, 2009
Siteworx, Inc., one of the largest independent Web design and development companies headquartered in metro Washington, D.C., has promoted Giovanni Calabro to the position of Vice President of User Experience. Previously, as Siteworx Director of User Experience, Calabro led Web strategy and consulting engagements for clients such as U.S. News & World Report, USATODAY.com, AOL, PayPal, Coldwell Banker Commercial, American Diabetes Association, Massachusetts Medical Society, and many others.
"Giovanni and his team have built the Siteworx User Experience discipline into a key growth area for the company and a focal point for client value creation. This promotion recognizes Giovanni's leadership, enthusiasm and passion for delivering superior client service," says president, Tim McLaughlin.
According to Michael Piccorossi of U.S. News and World Report, "Giovanni has a deep understanding of the diverse disciplines that converge to define User Experience, including Web design, analytics, search engine optimization (SEO), social networking, and user testing. More importantly, he complements those skills with an ability to listen and quickly grasp the goals of an organization and translate them to the Web."
Since joining Siteworx in 2006, Calabro has forged a wide range of User Experience services including:
User Research and Analysis--Best practices and institutional knowledge can only get a company so far. The Siteworx User Experience team employs many tactics to provide clients with reliable data to develop strategy and ultimately succeed. Whether clients need simple usability tests or general focus group sessions, Siteworx helps clients understand "What do audiences expect of my product?" Going beyond the empirical, Siteworx understands that analysis should extend to objective data. Understanding the user experience via search log analysis or Web analytics is acceptable, but helping organizations set up environments that allow for detailed forensics using tools like Tealeaf® sits comfortably within the privy of the Siteworx User Experience team.
Analysis services also extend to areas such as heuristic, SEO, workflow, content, and operational evaluations. Gaining data to develop a Web strategy or to validate a pre-existing strategy allows the User Experience team to inform clients and cut through organizational differences in opinion.
Information Architecture--Whether it's determining the navigational architecture of a new product or developing an inventory and structure of existing website content, Siteworx emphasizes clean architecture. Going beyond the user experience, good information architecture acts as a roadmap for company stakeholders, designers, and developers. Siteworx uses strong architecture to determine content planning, navigational flow, operational needs, and technical requirements. By surveying users, product owners and stakeholders, Siteworx ensures the project team is in agreement before proceeding. The Siteworx architectural plan describes in detail how users will navigate your product, how your business stakeholders will feed the product, and how the implementation team will develop the product.
Web Design--Siteworx always designs with audience needs at the forefront while ensuring that business and technical development capabilities can support audience expectations. Everything from wireframes to specification documentation take audience and business users into account to ensure a strong product that is supported and easy to maintain over time. Beyond website or application development, Siteworx will help you understand who your customers are, in what context they interact with your product, and how content /application delivery may differ from platform to platform. Whether developing an iPhone application or determining how changing online publishing models will be impacted by social technologies, the Siteworx User Experience team incorporates analysis, strong architecture, and clear design to communicate needs and to help clients achieve their business goals.
"At Siteworx, our guiding principle is that user experience cannot be defined in a vacuum. Your product must satisfy audience expectations while being supported by solid business and technical foundations," says Calabro.
For additional information about Siteworx, email info (at) siteworx (dot) com.
About Siteworx, Inc.
Siteworx provides the full range of Web design and product development solutions through deep expertise in user experience, a wide range of Web development platforms and an award-winning creative design team. From mobile applications and social media strategies--iPhone/Mobile apps, social media, blogs, RSS--to CMS, enterprise search and analytics solutions, Siteworx delivers improved performance to an impressive and growing roster of clients including AOL, The College Board, Discovery Communications, National Geographic and U.S. News & World Report. Learn more at http://www.siteworx.com.
###