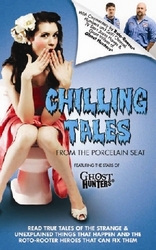 Many of the locations alleged to have poltergeists simply turn out to be plumbing problems, clanging pipes and DIY projects gone wrong
Cincinnati, OH (PRWEB) July 16, 2009
Roto-Rooter, America's largest plumbing repair and drain cleaning service provider, has unveiled its latest creation to bring joy and relief to bathroom users everywhere. Chilling Tales from the Porcelain Seat is a vignette-style bathroom reader featuring real life Roto-Rooter plumbers and SciFi channel's Ghost Hunters Jason Hawes and Grant Wilson. Chilling Tales from the Porcelain Seat features strange but true tales of plumbing horrors, toilet problems and hilarity and is available for purchase at ChillyTales.com.
The idea behind the book stems from all the strange, odd, unexplained and simply weird plumbing, clogged drain and toilet repair experiences both the Ghost Hunters and other Roto-Rooter plumbers have witnessed over the years. "Many of the locations alleged to have poltergeists simply turn out to be plumbing problems, clanging pipes and DIY projects gone wrong," Hawes said.
Visit the Roto-Rooter blog to learn more about the book: http://blog.rotorooter.com/blog/roto-rooter/0/0/chilling-tales-from-the-porcelain-seat .
"Chilling Tales from the Porcelain Seat highlights the odd experiences that many plumbers encounter on a daily basis," Hawes added. "Readers will be shocked to learn about some of the bathroom plumbing problems we've experienced on the job and we've even had folks from all across the country send in their own plumbing stories for the book. There are tales that will curl your hair, and others that are just so funny you can't help but belly laugh. It's a great way to spend some quality time on the throne."
The book is also filled with plumbing service repair tips, advice and what not to do's for do-it-yourselfers who may be looking to tackle a plumbing problem, although Hawes wryly admits that his best do it yourself plumbing advice is to call an experienced plumber. Chilling Tales features toilet trivia and even a special foreword by the Porcelain God himself.
Ghost hunting enthusiasts can also enter Roto-Rooter's Chilling Tales Sweepstakes for a chance to win a trip to Colorado where the winner will join Jason and Grant on a ghost hunt at the famous Stanley Hotel, the location for the filming of the movie The Shining, or the chance to stay at the haunted Spaulding Inn of New Hampshire, owned and operated by the Ghost Hunters stars. Other prizes will also be available.
About Roto-Rooter
Established in 1935, Roto-Rooter is the largest provider of plumbing and drain cleaning services in the United States and Canada. Roto-Rooter operates businesses in more than 115 company-owned territories and approximately 500 franchise territories, serving 90 percent of the U.S. population and 41 percent of the Canadian population.
For more information please contact:
Paul Abrams
Roto-Rooter Public Relations
Roto-Rooter Group, Inc.
2500 Chemed Center
255 East Fifth Street
Cincinnati, Ohio 45202-4726
513-762-6434
paul(dot)abrams(at)rrsc(dot)com
http://www.rotorooter.com
###