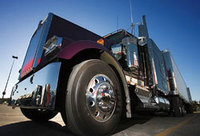 Even with rapid growth, Phoenix Capital Group has maintained our high level of customer service, and we expect to make further improvements in 2009
Phoenix, AZ (PRWEB) February 9, 2009
Recent news reports indicate that thousands of workers in the United States are losing their jobs because of companies closing facilities. But there are companies experiencing growth in this tough economy. Phoenix Capital Group is one such company. Phoenix, which specializes in freight factoring, truck factoring and Freight Bill Factoring, expects high demand to continue in 2009. But that doesn't mean Phoenix Capital Group executives are looking at business changes.
"Even with rapid growth, Phoenix Capital Group has maintained our high level of customer service, and we expect to make further improvements in 2009," says company president Craig Berry.
These improvements include high advances, low rates, same day funding and no long-term contracts. Phoenix Capital Group customers can continue to expect competitively priced, high quality services, along with a commitment to excellent customer service.
Truck Factoring services are expected to remain in high demand in 2009 because of they allow trucking companies access to immediate, positive cash flow in order to meet the financial demands of their businesses.
About Phoenix Capital Group:
Phoenix Capital Group is a one-stop transportation services company, providing freight factoring, equipment financing, and fuel cards to our clients. Our competitively priced, high quality products and services are what earn us new clients every day, but it is our commitment to excellent customer service that sets us apart from the competition.
Contact:
For More Information:
Craig Berry
http://www.phoenixcapitalgroup.com/
Phoenix Capital Group, LLC
1606 West Whispering Wind Drive
Phoenix, Arizona 85085
Tel (623) 298-3456
Fax (623) 298-5715
###