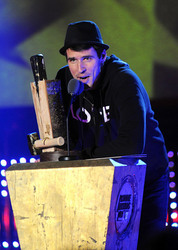 New York, NY (PRWEB) December 4, 2009
To Write Love on Her Arms is a non-profit movement dedicated to presenting hope and finding help for people struggling with depression, addiction, self-injury and suicide. TWLOHA exists to encourage, inform, inspire and also to invest directly into treatment and recovery. Since its start in 2006, they have donated over $600,000 to people dealing with depression and have answered over 100,000 emails worldwide and are the largest non-profit organization on MySpace.
2009 has been a very eventful year for TWLOHA and a first for many things. Located at the headquarters of TWLOHA in Cocoa FL, they hosted a live webcast featuring conversation and performances. Jamie orchestrated a CMJ panel titled "Music For Good" hosted by Steven Smith with panelists including Charity Water and Invisible Children. He also embarked on a college tour blanketing the US and visiting Australia, Canada and Mexico City. Gatherings were also held in Glasgow, Scotland, the U.K. and at the U.S. Open of Surfing. The TWLOHA team presented Heavy and Light at House of Blues Orlando where over 1,600 people attended. Two banners hung on 6th street in Austin TX during SXSW where Jamie spoke and the organization was involved in a 3-day musical showcase. And we cannot forget the summer long Warped Tour trek and Bamboozle Festival.
The past two weeks have been exceptionally exciting winning an mtvU Woodie Award in the "Good Woodie" category. It was the first time in the history of The Woodie Awards that a non-musician was nominated and there was stiff competition; Alicia Keys, Wyclef, John Legend, Kenna and Ra Ra Riot. The award ceremony will air tonight, December 4th, 2009 on MTV where you can see Jamie accept the award!
In the current issue of Rolling Stone Magazine (Taylor Lautner cover) Jamie and the organization have a 5-page feature. The photoshoot was held in NYC at Washington Square Park where supporters came in from Canada, Delaware and Virginia and was shot by Peter Yang who is best known for his Barack Obama cover. You can see behind the scenes footage here: http://vimeo.com/7828395.
Next month To Write Love on Her Arms will host the third annual Heavy and Light, January 9th, 2010 at the House of Blues in Orlando featuring Acoustic Performances by Mat Kearney, Aaron Gillespie (Underoath/The Almost), Bryce Avary (The Rocket Summer), Stephen Christian (Anberlin), Aaron Marsh (Copeland), Zach Williams and Damion Suomi. Tickets can be purchased here: http://tiny.cc/3qVtY
TWLOHA began as an attempt to tell a story and a way to help a friend in Spring 2006. The story and the life it represented were both things of contrast – pain and hope, addiction and sobriety, regret and the possibility of freedom.
To put it simply, it all comes down to a vision…
The vision is that community and hope and help would replace secrets and silence.
The vision is people putting down guns and blades and bottles.
The vision is that we can reduce the suicide rate in America and around the world.
The vision is the possibility that your best days are ahead.
The vision is the possibility that we're more loved than we'll ever know.
The vision is hope, and hope is real.
For the Rolling Stone feature, click here: http://www.rollingstone.com/news/story/31054258/surfer_to_savior_jamie_tworkowski_founder_of_to_write_love_on_her_arms
To get involved click here: http://www.twloha.com/move/
You are not alone, and this is not the end of your story. For more on To Write Love on Her Arms: http://www.TWLOHA.com.
PRESS CONTACT:
Dayna Ghiraldi
Big Picture Media
1133 Broadway
Suite 733
NY, NY 10010
O: 212-675-3103
F: 509-352-5319
C: 646-467-0524
aim: DaynaBigPicture
http://www.BigPictureMediaOnline.com
###