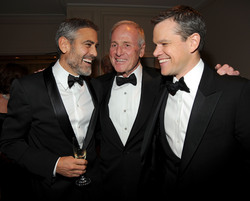 Beverly Hills, CA (PRWEB) December 14, 2009
The 2009 UNICEF Ball from NYC to Beverly Hills, CA brought together Hollywood's biggest stars for fundraising galas to honor those individuals who have made key contributions to UNICEF's mission to save and improve children's lives worldwide.
BEVERLY HILLS GALA: At the Beverly Wilshire Hotel on December 10th, producer and long-time philanthropist Jerry Weintraub was honored as Man of the Year with UNICEF's Danny Kaye Humanitarian Award. Performances held by Paul Anka, Tony Bennett, Jane Morgan-Weintraub and Franki Valli & The Four Seasons.
Video & Stills: George Clooney, Matt Damon, Cindy Crawford, Bruce Willis, Jeremy Piven, Selena Gomez, Alyssa Milano
NYC GALA: Al Roker hosted at Cipriani on 42nd St. on December 2nd to honor Antonio 'LA' Reid, with performance by Island Def Jam recording artist Chrisette Michele.
Video & Stills: Mariah Carey, Jenna Bush, Téa Leoni, Antonio Reid, Nick Cannon
BEVERLY HILLS LIGHTING CEREMONY: Shining on Rodeo Drive, the event kicked off November 21st with High School Musical's, Monique Coleman.
NYC LIGHTING CEREMONY: On November 19th, the iconic Snowflake event was held at 57th Street and Fifth Avenue, with Lucy Liu and a festive recital by Broadway Kids Care.
**UNICEF 2009 SNOWFLAKE EVENT Video & Photos Available for download at http://www.magicbulletmedia.com/MNR/unicefsnowflake2009/
For hardcopy or more information, please contact: Elana Gichon, 818.636.7500
###