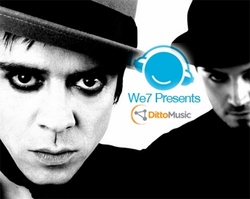 London (PRWeb UK) October 1, 2009
Just days after being selected for a prestigious slot on 'we7 Presents', Ditto Music band Hitchcock has signed a recording contract worth an initial 25K with German label Dance Street.
Ditto Music , which is already feeding music from its roster of unsigned artists into Spotify, continues to make inroads into the digital distribution market with its latest deal, which will supply content to online streaming service we7, co-founded by Peter Gabriel.
Not only will artists be able to stream and sell their music on we7, but one artist every six weeks will win £10K worth of free promotion through the new 'we7 Presents' feature spot. Every artist signing up to any of Ditto Music's distribution packages - which cover over 700 retailers - before October 7th will automatically qualify for free distribution to we7 and become eligible to win the 'we7 Presents' promotion.
Hitchcock, Ditto's first winners, are currently gaining access and being promoted to we7's multi-million monthly audience. So successful is the Ditto/we7 formula that, just two days into Hitchcock's campaign, they were contacted by Dance Street records - regular users of we7 - and offered a record deal.
Like Hitchcock, future winners will also receive home page splash coverage on we7.com, onsite advertising, newsletter inclusion to over 60,000 subscribers and, most importantly, direct Paypal™ payments for each play they achieve.
Lee Parsons of Ditto Music commented: "We7 have shown that unsigned talent really can find a platform, but too many online stores reserve their promotional efforts for major label content. Hitchock securing a record deal shows you how important exposure like we7 is for undiscovered artists. I hope that other services can see the value of promoting new talent and follow in their footsteps."
Steve Purdham, CEO and founder investor of we7, stated: "We're all about bringing unsigned artists out and giving them a platform so they can reach a new audience - 2.5 million at we7 in the last month alone. Now unsigned artists from Ditto will also be able to come onto we7 and promote their acts to a huge number of existing and new fans, and that's a tremendously powerful and exciting prospect for any wannabe artist."
About Ditto Music
Established in 2005, Ditto Music is the largest independent distributor of digital, mobile, ringtone and video content, supplying over 700 stores worldwide and qualifying for chart placement. In 2007, Ditto was responsible for the first-ever UK top 40 single by an unsigned artist (Koopa). Since then, Ditto's distribution model has been posing a serious threat to the major labels. Ditto Music's roster includes Prince, My Vitriol, Lil Wayne, Sean Paul, Tupac Shakur, Finch, Samantha Fox, Gurrumul and Fairport Convention.
Press and Business Contact
e: Lee Parsons - lee(at)dittomusic.com
t. +44 (0)121 551 6624
http://www. dittomusic.com
About we7
we7 is the first free and legal service of its kind in Europe delivering music in the way consumers want it. we7 users can listen to music for free whenever they want, and buy whatever they love. The service works by 'grafting' short, relevant ads which precede the free music tracks based upon information known about the user, such as location, age and gender. This advertising ensures that artists and labels receive royalties for making their songs available, whilst consumers receive streamed legal music free of charge. we7 showcases exciting music of all genres from all four majors and loads of great independents in including PIAS, Finetunes, MTunes and The Orchard as well as directly from unsigned artists. Co-founded by Peter Gabriel, we7 received a BT Digital Music Award in 2008 for Best Music Service.
###