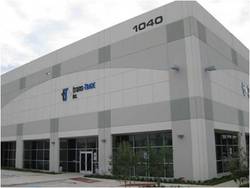 We are very impressed with Trans-Trade's vision and aggressive growth objectives. We will be a willing and capable partner who can help Trans-Trade realize their vision.
Herndon, VA, (PRWEB) October 16, 2009
"We have embarked on an exciting and rewarding program to grow the company by providing world-class services. Our customers have told us that timely, accurate, and customized information about their products through our supply chain processes is key to their success. We believe Softeon will provide us with the framework and agility to offer leading-edge information tools which will provide us with a clear competitive advantage" said Brad Skinner, CEO of Trans-Trade.
The modular design of Softeon solutions enables companies to implement the requisite functionality they need, when they need it, and to easily adapt as business needs change. Softeon makes it easy to solve warehouse-specific challenges or to deploy a complete end-to-end solution.
One of the main criteria for the selection of Softeon over competitors was its suite of tightly-integrated modules that provide a strong foundation for systematic and volume growth. Douglas Gouey-Guy, Chief Technology Officer, states, "Trans-Trade's diverse service offerings demand a rock-solid platform that offers out-of-the-box functionality that can be complimented by intelligent integration and customization. Softeon impressed us with their product capabilities and, perhaps more importantly, with their thoughtful, consultative approach to project implementation and management. We have aggressive plans that require stable, growth-centric system support. We believe Softeon provides exactly what we need to accomplish our goals and provide our customers fanatical service."
"Softeon is proud to have the opportunity to support Trans-Trade in meeting their business objectives by providing them with our new generation Warehouse Management system," said Gana Govind, President of Softeon. "We are very impressed with Trans-Trade's vision and aggressive growth objectives. We will be a willing and capable partner who can help Trans-Trade realize their vision."
An advanced, open and robust technical architecture coupled with the breadth and depth of the SCE functionality ensures a significant ROI for Softeon's customers. The web-native, multi-platform product suite with a broad range of integration capabilities ensures a technology solution enabling growing business needs over the longer term without associated increase in technology costs.
The boutique supply chain consulting/solutions firm Nathan Research Inc, out of Dallas assisted Trans-Trade with the selection and will be assisting them with the implementation of the Softeon solution. "We are excited and proud to be part of the strategic transition taking place at Trans-Trade and to be partnering with them and Softeon on this initiative" said Ram Viswanathan, President of Nathan Research.
About Trans-Trade
Trans-Trade is a full-service supplier of transportation and logistics services to clients throughout the United States and internationally. Founded in 1984, Trans-Trade has grown to become a leader in innovative end-to-end supply chain solutions that provide clear competitive advantages through intelligent origin management, dependable and price-competitive transportation services, and efficient, responsive distribution capabilities. Important new initiatives include comprehensive distribution and 3PL services; integrated inbound supply chain solutions and innovative support for automated Import Security Filing processes. Trans-Trade's commitment to market leadership combines leading technology with talented people focused on providing superior service and customer value.
Contact information:
Address: 1040 Trade Avenue, Suite 106, DFW Airport, TX, 75261
Phone: 972-456-1581
URL: http://www.transtrade.com
About Softeon
Softeon provides the industry's most functionally rich suite of WMS and supply chain execution solutions. Built on an advanced, fully web-native technical architecture, Softeon's solution series offers a comprehensive, yet modular, solution for warehouse and distribution management, order management, labor and resource management, work order processing, and transportation management. Companies consistently find their solution suite offers the most deep and comprehensive set of capabilities in the supply chain execution industry, supported by an advance and flexible technical architecture, satisfying both operations and IT requirements
Softeon's growing list of customers in the Logistics Service Provider industry includes well-known companies such as CEVA Logistics, Federation Logistics, PSS Distribution Services, OIA Logistics to name a few. In other industries Softeon works with logistics leaders and marquee companies like Sony, Time Inc., Sears, the Internal Revenue Service and Ben E. Keith Beverages.
For more information:
Contact: 3plinfo (at) softeon (dot) com
Phone: 703-793-0005
URL: http://www.Softeon.com
About Nathan Research:
Nathan Research Inc, based in Dallas, is a consulting, research firm that offers strategy, planning, technology and operations services to retailers, manufacturers and logistics service providers.
Contact information:
Phone: 214-507-0015
URL: http://www.nathanresearch.com
###