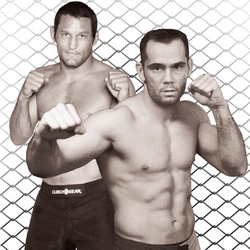 The level of talent that is being brought forth on a free basis is unheard of anywhere, let alone Wisconsin
Minocqua, WI (Vocus) December 10, 2009
The state's first mixed martial arts exposition, the Wisconsin Combat Sports Midwest MMA Expo and Seminars, will be held at the Lake of the Torches Resort Casino in Lac du Flambeau, Wisconsin on January 9 and 10, 2010. The exposition will feature seminars and autograph signings from MMA champions Dan Henderson, Rich Franklin, Hermes Franca, James Lee and many more.
The completely free two-day event will feature seven different seminars from some of the world's most respected mixed martial artists, trainers, and coaches, as well as exhibitor booths featuring the latest in equipment, schools and academies, nutrition, uniforms and apparel, promotions and organizers, media and news resources, and services specifically geared towards the fans and practitioners of mixed martial arts.
The impressive list of instructors who will be giving the seminars include former Pride and UFC Champion Dan "Hendo" Henderson, former UFC champion Rich "Ace" Franklin, former WEC champion and UFC fighter Hermes "The Unreal" Franca, former King of the Cage champion and UFC fighter James Lee, former IKF world champion kickboxer and trainer to the biggest stars in MMA today Duke Roufus, Strikeforce and UFC fighter, Brazilian Jujitsu black belt, and trainer Jorge Gurgel, and Brazilian Jujitsu black belt and trainer Jon "White Trash" Friedland. Each personality will also be available to sign autographs afterwards.
Along with the ridiculous amount of activities planned for the weekend, the expo will also feature the state's largest MMA based show floor ever. Exhibitors from around the Midwest will be showcasing hundreds of new products and services and offering exclusive show specials.
Gabriel Wahhab, co-owner of Wisconsin Combat Sports, believes that the expo is an ideal situation for fighters and fans that are looking to interact with some of their favorite MMA personalities. "The level of talent that is being brought forth on a free basis is unheard of anywhere, let alone Wisconsin" said Wahhab. "This is a can't miss event for fighters and fans who would like to meet and learn from the world's best trainers and fighters. We are extremely excited to be able to co-present this opportunity to Wisconsin and the entire Midwest."
Michael J. Broderick, the Director of Marketing for Lake of the Torches Resort Casino, said that the resort is extremely excited to give fans and practitioners this great opportunity to meet and learn from some of the biggest stars of the sport today. "Offering this entire event for free was just one way Lake of the Torches Resort Casino wanted to say thank you to the mid-west." remarked Broderick. "We felt that it was time to give something back to all of the fighters, clubs, and, most importantly, the dedicated fans that have made our past MMA events so successful. We could not be more excited to put all of these world-class fighters and TV stars in the same room and at the same time here in Wisconsin."
All ages and families are welcome to attend, however due to limited space, in order to participate in the free seminars on the mat attendees must be over 18 years of age and affiliated with a MMA or martial arts gym, promotion or organization. All others will be more than welcome to observe the seminars off of the mats on the sidelines as well as to meet the stars when scheduled for a free autograph and photo. All children attending the show must be accompanied by an adult. The show will be open from 10 a.m. - 5 p.m. on Saturday and from 10 a.m. - 4 p.m. on Sunday.
The following is a schedule of the free seminars for practitioners 18 years of age and over and free meet and greets available to anyone attending the show:
Main Expo Hall
Saturday, January 9th
10:00 – 11:00 - Jon Friedland seminar
11:30 – 1:30 - Dan Henderson seminar
2:00 – 3:00 – Dan Henderson autograph signing at Clinch Gear Booth
2:00 – 3:00 - Jorge Gurgel seminar
3:30 – 4:30 – Jorge Gurgel autograph signing at LOTC & WCS Booth
3:30 – 4:30 - Duke Roufus seminar
4:00 – 5:00 - Duke Roufus autograph signing at LOTC & WCS Booth
4:30 – 5:30 – Open Mat
Sunday – January 10th
10:00 – 11:00 - Hermes Franca seminar
11:30– 12:30 - Hermes Franca autograph signing at LOTC & WCS Booth
11:30 – 1:30 - Rich Franklin seminar
2:00 – 3:00 - Rich Franklin autograph signing at the American Fighter Booth
2:00 – 3:00 - James Lee seminar
3:30 – 4:30 - James Lee autograph signing at LOTC & WCS Booth
3:00 – 4:00 – Open Mat
In addition, a seminar and certification class for MMA judges will be offered during the course of the two days. If you'd like more information about the judging seminar, please contact Cheryl Clancy at (414) 305-0137.
Exhibitor information can be found at
CIA Marketing, Inc.
P.O. Box 266
Lakewood, WI 54138
Phone: 715-757-2370
Fax: 715-757-2379
admin(at)wiupevents(dot)com
If you would like more information on this topic, or to schedule an interview with Gabriel Wahhab or Michael J. Broderick, please call Gabe Wahhab at 414/921-0407 Ext: 2000 or e-mail Gabe at info(at)wicombatsports(dot)com.
Situated on the shores of Pokegama Lake and nestled in Wisconsin's Northwoods, the Lake of the Torches Resort Casino has a feel of a classic Northern retreat and reflects its Ojibwe culture and heritage. The casino has over 800 slot machines (including a non-smoking area), 12 tables and three poker tables, a high-stakes Bingo Hall seating up to 500 persons, the 24-hour Game Time Grill and the Eagle's Nest Restaurant. The hotel has 101 well–appointed rooms, the Dancing Waters Lounge and the Woodland Oasis pool area. The 8,500 square-foot Convention Center with the Hall of Nations offers an outstanding venue for entertainment, receptions, trade shows, meetings, presentations and seminars.
More information on upcoming events at Lake of the Torches is available at http://www.lakeofthetorches.com.
###