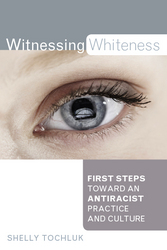 With the upcoming Inauguration we have a tremendous opportunity right now to reach across race and continue our country's healing process
Los Angeles, CA (PRWEB) January 14, 2009
Anti-racism expert and author, Shelly Tochluk, says our country faces more hurdles than ever regarding racism as Barack Obama, our country's first black president, takes office on Tuesday, January 20, 2009.
"How many of us heard racial remarks from our friends or family during the election, knew they were offensive, but didn't speak up?" questions Tochluk. "We need to acknowledge that white-skin privilege does exist, and then adopt a new way to be white in the U.S."
Tochluk says many white people believe they are transcending racism, but in reality they're often ignoring or masking the problem because they don't know how to confront racial issues.
Diane Burbie, an international consultant dedicated to building cross-race alliances and managing principal of The Aspire Group, agrees. "It's still very hard for us to look directly in the eyes of racism," she says. "So as a country, we're still in a reactionary place, opposed to a proactive place of forging change."
In her book, Witnessing Whiteness: First Steps Towards an Antiracist Practice and Culture, Tochluk explains why racism continues to be a powerful issue, demonstrates how race affects our daily lives, and then focuses on teaching white people skills and tactics they can use to combat race issues in their own lives, such as how to:

Successfully navigate racially loaded situations;
Learn from people of color without reenacting white privilege; and
Start real and honest conversations in their communities about race.
Tochluk's long-term vision is that white folks will become comfortable using these practices in their daily lives, work proactively towards change and ultimately inspire an antiracist society.
"With the upcoming Inauguration we have a tremendous opportunity right now to reach across race and continue our country's healing process," states Tochluk. "But for many white, Obama supporters like myself, there remains a great deal of work to accomplish within ourselves and our white communities before further progress can be made."
For more information about the book, or to order a copy, visit http://www.witnessingwhiteness.com.
About the Author
Shelly Tochluk received her Ph.D. in Depth Psychology at Pacifica Graduate Institute in 2005 where she investigated how white racial identity impacts friendships. She now trains teachers to work with Los Angeles' diverse school population as the Chair of the Education Department at Mount St. Mary's College. Tochluk also currently serves on the leadership team of AWARE-LA (Alliance of White Anti-Racists Everywhere-Los Angeles), a community of white anti-racists. Tochluk has spoken to groups across the country about white privilege and cross-cultural issues, and this year she will present at the annual White Privilege Conference.
Shelly Tochluk is available for interviews and can expand on the following topics:
How to adopt a new way to be white in the U.S.
Why Obama can't tackle racism, but his white supporters can.
How to get beyond the guilty, white liberal mentality.
Lessons she learned while watching The Oprah Show with a multi-racial group of women.
The problem behind white people saying they're colorblind.
How paying attention to the color of our skin can actually help end racism.
Strategies anybody can use to combat a racially loaded situation.
###