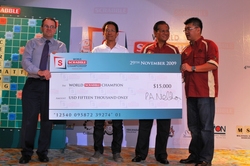 "The WSC has grown tremendously since 1991 where we had only 48 participants from 19 countries" - Philip Nelkon, WSC Organizer, Mattel UK.
New York, NY (PRWEB) December 2, 2009
Pakorn Nemitrmansuk from Thailand clinched the World Scrabble® Champion title which has eluded him twice before with his winning word BOTANICA. Nemitrmansuk walked away with USD15,000 in prize money at the 10th World Scrabble Championship (WSC) held in Malaysia from 26th – 29th November, creating a new breed of Scrabble players emerging from Asia, and from Thailand in particular. Thailand also walked away with the Top Team trophy at the 2009 WSC which attracted 108 players from close to 40 countries from around the world.
Nemitrmansuk beat strong opponent and former World Champion Nigel Richards from New Zealand with the winning word which scored him 94 pts in the 4th game at the Finals held today. Richards as 1st Runner Up takes home USD6,000 in prize money, while 2nd runner up was Dave Wiegand from United States of America who received USD3,000 in prize money. Chief Minister of Johor, Y.A.B. Dato' Abdul Ghani bin Othman presented the trophies and giant-sized cheque to the three top winners.
Interesting and high scoring words played during the final rounds between Richards and Nemitrmansuk were STAMINAS (90 pts) and Richard's highest scoring word MACHINES (221 pts), and GENETRIX which means "biological mother" (101), ADVENES (80 pts) which means "becoming a part of something", and highest scoring word in the finals PALUDINE which means "Marsh" (167 pts) from Nemitrmansuk.
"This win was not expected, and I am very happy! I am very honoured to have played against a player in this Championship that I look up to the most – Nigel Richards," said 34 year old architect, Nemitrmansuk who has been playing Scrabble since he was very young.
The World Scrabble Championship, held for the second time in Malaysia since its inception kicked off to a great start on the 26th of November in Johor Bahru, Malaysia with 108 participants from close to 40 countries vying for the World Champion title and total prize money worth USD30,500.
"The WSC has grown tremendously since 1991 where we had only 48 participants from 19 countries. This year is very exciting for us at Mattel, as we were not only here to host the biggest World Scrabble Championship, but to also be a part of the Iskandar Malaysia World Scrabble Festival which is a marathon of Scrabble tournaments kicked off with the World Scrabble Championship," said Philip Nelkon, WSC Organiser from Mattel UK.
The World SCRABBLE® Championship is the most prestigious title in competitive English-language Scrabble and has taken place every second year since 1991. This year the event is sponsored by Mattel Inc and as usual has attracted entrants from across the globe, vying for the Championship title and a total of USD30,500 in prize money.
There was a 24-round tournament, with 8 games each day, for three days and the top two players contested in a best of five game final on Sunday, 29 November, with closed circuit coverage to an audience of eliminated contestants and local enthusiasts.
The WSC was played under the version of the WESPA Game Rules, using the word reference, Collins Scrabble Tournament and Club Word List, combining words in both American and British usage, is a basic premise for national associations to accept worldwide.
Families the world over love this classic word game that comes in over 30 languages. SCRABBLE® is the flagship brand of Mattel Games, it is a product that is recognized and respected all around the world. SCRABBLE® was first launched in the USA by a small family business in 1948 and took America by storm in the early 1950's. It has continued to grow in popularity throughout the world ever since.
For further details of players and event visit http://www.wscgames.com
SCRABBLE® is a registered trademark of J.W. Spear & Sons Limited, a subsidiary of Mattel, Inc. ©2009 Mattel, Inc. All Rights Reserved.
###