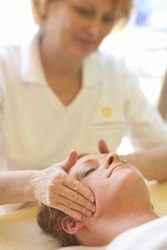 Eucalyptus helps with coughs, sore throats, allergies, bronchitis and colds. It is also a natural anti-inflammatory. So not only does it help with allergies but has so many more healing properties. It's important to use what nature has given us
Austin, TX (Vocus) September 3, 2009
More than 45 million Americans suffer from allergies and the number is rising daily. Global warming and increased carbon dioxide in our atmosphere are partly to blame, making pollen grains more powerful and extending the spring months, when allergies are at their worst. The experts at Lake Austin Spa Resort have created unique and effective programs to conquer this ever-growing problem in a natural, drug-free way.
There might be no way to completely avoid allergens, but there are ways to reduce the impact they have. Paul K. Smith, MEd, E-RYT and a seasoned activities instructor at Lake Austin Spa Resort, teaches a variety of classes from traditional fitness training to meditation and Pilates, but the Yoga for Allergies and Asthma personal consultations have been keeping him busy. An instruction session begins with a session on how to use a neti pot, which the guest takes home with them. Mudras or hand positions that channel subtle energy, Hatha Yoga and Pranayama exercises or yogic breathing techniques are then demonstrated and practiced to give guests a guide to what to do once they return home.
In addition to allergy relief through yoga, the Breathe Easy Facial is ideal for seasonal allergies or just as an immune system and skin boost. The facial is a 50-minute clearing and cleansing facial for the sinuses and skin, which incorporates the natural anti-bacterial powers of eucalyptus, tea tree and pine to maintain healthy breathing and clear nasal passages. Rose absolute and geranium nourish and hydrate skin, while pressure point techniques and lymph drainage movements assist in unblocking sinus passages and easing tension and headaches.
"Eucalyptus helps with coughs, sore throats, allergies, bronchitis and colds. It is also a natural anti-inflammatory. So not only does it help with allergies but has so many more healing properties. It's important to use what nature has given us," says Lynne Vertrees, Spa Director.
Overnight guests of the resort can sign up for the Yoga for Allergies and Asthma personal consultation and Breathe Easy Facial prior to their arrival. The resort offers Refresher and Ultimate Spa packages that include a spa and fitness allowance which can be used toward these services.
About Lake Austin Spa Resort
Nestled along the shores of scenic Lake Austin in the beautiful Texas Hill Country, Lake Austin Spa Resort offers guests the sanctuary of a world-class spa and the warmth of a best friend's lake house. Lake Austin Spa Resort offers all-inclusive vacation packages, which include accommodations in one of 40 charming lakeside guest rooms, three gourmet meals daily, indoor and outdoor fitness activities and classes, and a selection of spa and body treatments.
The resort has received numerous awards from prestigious national travel and spa magazines since its multi-million dollar renovation and expansion in 2004. Condé Nast Traveler, Travel + Leisure, Allure, the Zagat Survey, Health, Garden Design, SpaFinder Lifestyle, Spa Magazine and American Airlines' Celebrated Living magazine have recently honored Lake Austin Spa Resort as one of the best in the country and in the world.
For additional information and reservations, call 800-847-5637, or visit the web site.
# # #