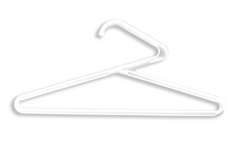 He could find people, find friends, all throughout China
Darien, IL (PRWEB) July 24, 2009
How does a dream become reality? Take a mechanical engineer from Northbrook, IL who was always looking to invent "a better mousetrap." Add an everyday item, a clothes hanger, mix in the daily frustration of trying to get tight collared clothes into that hanger, see that sweater get stretched out by that same hanger, and decide to improve upon a taken for granted annoyance. Marshall Joseph, that mechanical engineer, came up with an innovative Z-shaped hanger design, and with that innovative design, he started the process to improve everyone's quality of life. Following his death, son Mark Joseph did not leave his father's revolutionary invention to collect dust in the back of his closet. He decided he wanted Z- Hangers in every closet. This patented improvement on an everyday item and how it came to now be poised on the brink of becoming a huge breakout product is detailed in a fascinating article in CHICAGO MAGAZINE, August 2009 on newsstands now.
The seven page article follows the fortuitous personal connections starting in Chicago, where JD Ma, a Shanghai born businessman who connects American sellers with Chinese manufacturers, met and started a collaboration with Brian Russell, then a buyer for a major supplier of school fundraising items. "He could find people, find friends, all throughout China," Russell says of JD Ma. "I used to go to hotels, and I'd be the only American in the place." JD Ma and Russell collaborated on as many as 2,000 different items. When Brian Russell was shown the Z- Hanger through his lawyer (who also just so happened to be Mark Joseph's lawyer, son of Z Hanger creator Marshall Joseph), Brian knew the right man to call in for taking this great idea to the whole world.
JD Ma "studied" the hanger, scribbled in Chinese all over the copied plans of the prototype, specifying modifications and improvements and along with Brian Russell they decided to market it themselves, globally. They have assembled a consortium of hanger manufacturers, some of the biggest in China and some small, and they structured deals so that the factories are not only the suppliers but also partners with them, and partners with the other factories. In effect, they have created an international, interlocking sales force.
The Z-Hanger has made the rounds of trade shows where in 2008 it won "The IPEX 2008 Invention of the Year" at the International Home and Housewares Show in Chicago, back where it all began. Chicago Magazine writer Mike Lenehan decided to write about the Z-Hanger when he spotted an article on JD Ma in a New Yorker article. Since he was based in Chicago, Mike thought Chicago Magazine readers would be interested in his latest project. Mike said, "Since it involved 'creating something' instead of just buying and selling, and involved other local people like Brian Russell, Mark Joseph, and his dad, I chose to follow the project and write about it in the profile."
The feature article makes for fascinating reading, and it is only the first chapter of a very exciting worldwide launch and landing of Z-Hangers in closets spanning the globe. Though as Ma says, "I don't dream big, I do one step at a time," and we all know what happens with one small step…..it becomes the journey.
To find out more go to http://www.zhangers.com
Also on Twitter: Twitter.com/Zhangers
Contact:
Brian Russell--Really Useful Products Inc. 224-628-4378
###