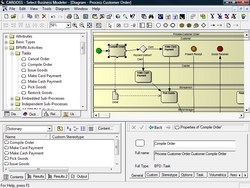 Select Business Modeler opens up support of the Business Motivation Model and Business Process Modeling Notation to many more business change specialists
Trumbull, CT (PRWeb UK) April 7, 2010
Select Business Solutions, a leader in process and software development tools, announced today the immediate release of its newest modeling tool, Select Business Modeler, with support for the Object Management Group's Business Motivation Model (BMM) and Business Process Modeling Notation (BPMN) standards.
Providing modeling tools for the business IT specialist has a been a key aim for Select Business Solutions for many years, one which it has backed-up with regular updates to its Select Solution Factory product line, including Select Architect. In recent years Select Architect has been further enhanced with capabilities for modeling business strategy as well as business processes, and, with the release of Select Business Modeler, Select is making these techniques available in a separate product, aimed at strategic business planners and business analysts.
"With the introduction of support for the Business Motivation Model early in 2009, we further recognized that our tools have a broader audience than simply IT specialists" says Phil Webb, Principal Consultant with Select's Application Development Tools division."By releasing Select Business Modeler we're providing a tool which, through its business-focussed features and reduced cost-of-ownership, can be adopted by a wider group of business strategists and analysts, while allowing them to work closely with their IT team should they choose to do so. This opens up support of the Business Motivation Model and Business Process Modeling Notation to many more business change specialists, which will, in particular, further encourage those who've already enthusiastically adopted the BMM."
Select Business Modeler is able to share its models with Select Architect, a business, UML and data modeling tool, allowing the business analyst and IT specialist to develop their models without having to export and import model information. Built on the same object repository technology as Select Architect, and indeed sharing much of its technical infrastructure, Select Business Modeler provides the same enterprise scalability and ease of adoption.
Features in Select Business Modeler include:

Business Motivation Modeling - model the Ends (Visions, Goals & Objectives), Means (Missions, Strategies, Tactics & Directives) & Influencers
Link Business Motivation elements to Requirements and Business Process modeling elements
Business Process Modeling - model process hierarchy and process workflow
Business Process simulation - validate and graphically communicate process workflows
Requirements documentation - record, manage and organize business and system requirements
Customizable document generation - generate documents in Microsoft Word® and HTML
Share models with users of Select Architect - Select Business Modeler and Select Architect models are interchangable, allowing application developers to view and work with models created by business modelers
Further information about Select solutions for business analysts and IT specialists, including whitepapers, webcasts and software downloads are available from http://www.selectbs.com/adt
About Select Business Solutions
Select Business Solutions, an Avantcé Software company (http://www.avantce.com) is a leading international software company with customers drawn from the Global 1000. Select provides comprehensive solutions consisting of pragmatic tools and services, for business critical IT software development, deployment, management, information access and enterprise reporting. Headquartered in Trumbull, Connecticut, Select operates sales offices throughout North America and Europe, in addition to a network of international distributors.
Trademark information
Select Business Solutions, Select Solution Factory, Select Architect, Select Business Modeler, Select Solution for MDA, and Select Process Director are trademarks of Select Business Solutions, Inc. in the United States and other countries.
Model Driven Architecture, MDA, MDA FastStart and UML and associated design marks and logos are trademarks and/or registered trademarks of the Object Management Group (OMG) and may be registered in the United States and/or other countries.
Other names mentioned may be trademarks of their respective owners.
Contact information
Colin Pickering
Select Business Solutions, ADT
Festival House,
Jessop Avenue,
Cheltenham
GL50 3SH UK
Tel: +44.(0).1242.246200
Email: info(at)selectbs(dot)com
Web site: http://www.selectbs.com/adt
###