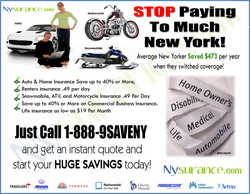 "Since 2009 we've helped hundreds of regular consumers and business establishments with their search for online New York insurance quotes." Says David J Williams Founder and CEO.
New York, NY (PRWEB) April 12, 2010
Many automobile owners are paying a far higher premium than they should for New York auto insurance because they may have purchased their insurance policy to fulfill an immediate need rather than shopping for price and quality. Nysurance is simplifying the task of shopping around for the best deal on New York auto insurance with the launch of their quick quote system at Nysurance.com.
"The most sensible thing to do (when shopping for auto insurance) is to competitive price shop. You will soon find that auto insurance quotes for the same coverage may vary by hundreds of dollars between different companies."
Nysurance's new quick quote system makes shopping for New York auto insurance both simple and very efficient. Auto owners just simply fill in basic information about their self and their vehicle, submit their custom quote form and wait for quotes in their inbox. In just a matter of a few minutes they will have quotes awaiting them via email. It's that easy.
"Our goal is to obtain the most competitive auto insurance quotes in a way that is quick, simple and secure."Our process is very easy and consists of Two simple steps to begin saving!" New York consumers that are interested can visit the Nysurance quick quote system at http://www.Nysurance.com/new-york-auto-insurance.php.
About Nysurance:
Nysurance is a newly developed online insurance resource. Since the company's launch in 2009, the company has specialized in matching customer requests for New York auto insurance quotes with both major and local insurance carriers.
Through Nysurance's simple to use quick quote system and their informational resources, consumers are enabled to find solutions for all their New York insurance needs. The company specializes in Auto, Home, Business, Health, Life and almost all other types of insurance coverage. For additional information, please contact Nysurance at 1-888-9SAVENY, or visit them at http://www.Nysurance.com
SOURCE Nysurance, LLC
David J. Williams of Nysurance
+1-888-972-8369
David.Williams(at)Nysurance(dot)com
http://www.djwagency.com
###